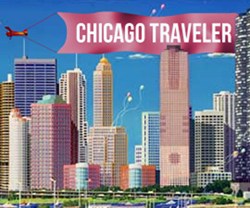 Chicago, Illinois (PRWEB) August 03, 2013
The Chicago Air and Water Show returns to the shores of Lake Michigan on August 17th and 18th. The show has been held annually for 54 years and is the largest free event of its kind in the United States. Famous military participants, the Army's Golden Knights and the Air Force Thunderbirds, had to bow out due to sequestration. They will be missed but the show must go on.
The lineup has several new acts and is more exciting than ever with performances from civilian and military daredevil pilots, parachute teams and water-skiing and boating showcases. The Aeroshell Aerobatic Team has been performing over 20 years, Chuck Aaron is one of three pilots licensed to do helicopter aerobatics internationally, and the Firebird Delta Team flying in aerobatic formations are a few of the returning acts. The GEICO Skytypers fly vintage WWII aircraft, Aerostars, Inc. is an demo aerobatic team and an All Veteran Parachute Team are a few of the new acts to amaze the crowd.
Where to Watch
Since this show is in the open air, there are many opportunities to get close to the action. The Chicago Air and Water Show is held at North Avenue Beach leaving a clear view along the lakefront from Fullerton to Oak Street, at Montrose Harbor Beach and Ohio Street Beach. Tune in to WBBM Newsradio 780 and 105.9FM on both days from 10:00 am until 3:00 pm for a live broadcast of the show, announced by Hunter Herb, who has been the voice of the show for over twenty years. Want to get an even better experience? Hop on a Chicago boat or cruise! Choose the right tour offered by top names in the business: Seadog, Spirit, Odyssey, Shoreline and Tallship. This is one of the best things to do in Chicago with kids, so bring the whole family!
Other Things to do in Chicago this Weekend
This is an exhilarating two day event so there's plenty of time to enjoy a few of the events and things to do in Chicago that weekend.
For those who are town the Friday before, there are a few things to do that evening. In the afternoon, the Cubs play the Cardinals and that night Lee Brice, Tyler Hilton, Danzing and Iration are playing at various venues.
After the show on Saturday, head to the 31st Running of the Arlington Million to put on a floppy hat and sundress and celebrate the "Sport of Kings" this summer in Chicago. Saturday evening, go watch Dance for Life or the Ratt, Sebastian Bach, Dokken & Lita Ford concert.
Those who are still around on Sunday night, Jimmy Eats World plays at Vics Theater at 7:30pm.
About ChicagoTraveler.com:
Chicago is one of the top vacation destinations in America famous for their annual events, popular foods, and architecture and top sports teams. ChicagoTraveler.com guides travelers to all the best things to do, top places to eat and deals on the best places to stay in Chicago. Lizz Riggs, editor of ChicagoTraveler.com, can help travelers find all the best things to do, places to stay and deals to take advantage of on their next trip.