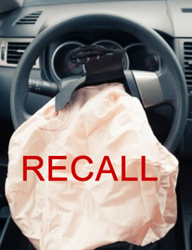 Airbags were designed to protect drivers and passengers in the event of a collision not injure them
West Palm Beach, FL (PRWEB) November 21, 2014
According to a National Highway Transportation Safety Administration report issued on June 11th, 2014, the inflating system found in certain airbags produced by Takata Corporation can rupture when the airbag inflates. The force of inflation may cause the metal canister to break into metal shrapnel, and the metal shards may pierce the airbag's fabric and potentially cause injuries to anyone within the vehicle's cabin.
According to a Bloomberg Business Week article on Nov 10th, 2014 titled "Takata Accused in Suit of Burying Bad Air Bag Test Result", several class action lawsuits against Takata have already been filed such as (Klinger v. Takata Corp., 14-cv-8677, U.S. District Court, Central District of California), (Dunn v. Takata Corp., 14-cv-24009, U.S. District Court, Southern District of Florida) and (David Takeda v Takata Corporation, 14-cv-08324, U.S. District Court, Central District of California).
The lawsuits allege that the airbags installed in millions of vehicles could potentially injure or kill people due to flying metal shrapnel. One complaint alleges that numerous injuries and several fatalities have been linked to the Takata airbag defect (David Takeda v Takata Corporation, 14-cv-08324, U.S. District Court, Central District of California).
According to an NHTSA press release Oct 22, 2014 to date the NHTSA has received notifications of the regional recalls from Toyota, Honda, Mazda, Nissan, BMW, Ford, GM, Subaru, Mitsubishi and Chrysler in numerous model years varying from 2000 to 2008.
To assist consumers Philip DeBerard, III of Florida's Law Offices of Philip DeBerard has released an informational webpage on the incident that allows individuals to see if their vehicle is part of the recall at http://www.flainjurylawyer.com/takata-airbag-recall/.
DeBerard states, "Airbags were designed to protect drivers and passengers in the event of a collision not injure them... also besides the alleged injuries the recall also potentially causes owners of the affected automobiles to suffer economic losses due to the reduced value of their vehicles."
"We understand the different types of losses suffered by the numerous Takata airbag failure victims, and so we're determined to assert the rights of the victims of these allegedly defective airbags," DeBerard adds. "We will stop at nothing to achieve the most advantageous outcome possible on their behalf so that they can move on with their lives."
Philip DeBerard, III is a reputable attorney who has practiced law for over 30 years, representing numerous injury and accident victims since 1975. He is among the first attorneys in Florida to become board-certified as a civil trial lawyer, and he is also recognized by the American Trial Lawyers Association to be one of the top 100 trial lawyers in the state.
Takata airbag injury victims are encouraged to contact Philip DeBerard toll-free at 1-800-299-8878 for a free case evaluation or visit http://www.flainjurylawyer.com