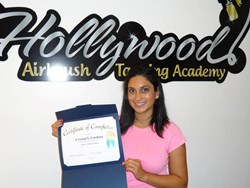 The training not only taught me the spray tanning technique, but it also taught me how to provide great customer service
Los Angeles, CA (PRWEB) December 12, 2013
Hollywood Airbrush Tanning Academy proudly announces the airbrush tanning certification of their latest student Crystal Cardoza. This hands-on training program has gained popularity all over the United States amongst the existing and aspiring beauty industry professionals looking to master the techniques of spray tanning. Most of the students from this academy are now running their own full-time or part-time airbrush tanning business successfully. Hollywood Airbrush Tanning Academy was founded in 2011 by America's most sought after sunless tanning expert Simone Emmons. Simone's exemplary knowledge, skill, and caring attitude has now made her one of the most successful mentors in the beauty and wellness fraternity of the country.
Crystal Cardoza, unlike many former students of the Hollywood Airbrush Tanning Academy, has been well established in the beauty industry even before joining her airbrush tanning classes. Crystal is an experienced makeup artist who specializes in beauty, high fashion, airbrushing and special effects. She is also well known for her professional expertise as an eyelash extension stylist. She decided to learn airbrush tanning because she wanted to expand her business by offering different beauty services. Crystal is now offering airbrush tanning services in Ventura County and Los Angeles County.
To know more about Crystal's beauty and spray tanning services in Moorpark, California area, please visit http://www.crystalcardoza.com. She can also be contacted over the phone at (805) 791-5299.
Airbrush tanning has emerged over the years as a healthier alternative to traditional tanning because this does not involve any exposure to direct sunlight. Thousands of beauty professionals all over the country are now learning airbrush tanning techniques so that they can start offering this service to their clients. In the coming days, Crystal looks forward to making people feel good about how they look. She also thanked Simone for her highly effective training technique. "Customer service is the key! Making sure your client feels comfortable at their most vulnerable state (being nude or half nude) is extremely important. The training not only taught me the spray tanning technique, but it also taught me how to provide great customer service".
About Hollywood Airbrush Tanning Academy:
Hollywood Airbrush Tanning Academy is located in Los Angeles, California and offers an extensive Airbrush Tanning Certification program to anyone who wishes to learn spray tanning. Simone Emmons, the creator of the spray tanning training program, has been a professional, licensed spray tanning technician and teacher and has helped numerous entrepreneurs from Louisiana, Utah, Colorado, Nevada, Minnesota, Texas, Georgia, Arizona, Alabama, South Carolina, North Carolina, Illinois, Indiana, Washington, Oregon, Florida, Oklahoma, Alaska, Ohio, California, Canada and the Island of Hawaii and Trinidad start a business in Airbrush Tanning. The spray tanning program is unique because it provides hands-on and private spray tanning training to individuals who want to start an Airbrush Tanning Business. According to Emmons, this spray tanning program gives individuals a leading edge in starting an Airbrush Tanning business immediately after finishing with the training. Students have the option to choose from a full day course of 10-12 hours or two half day courses of 5-6 hours a day or through live video conferencing. The academy is also launching a website soon so students can learn Airbrush Tanning Online. Many tanning training institutions only educate students on their own equipment and products they sell; however, Hollywood Airbrush Tanning Academy does not sell any of their own products and provides training and education on all equipment and good products in the airbrush tanning industry.
Individuals interested in learning and starting their own Airbrush Tanning Business should visit the website at Hollywood Airbrush Tanning Academy, or for more detailed information about the airbrush tanning classes, visit 1DaySprayTanTraining.com.