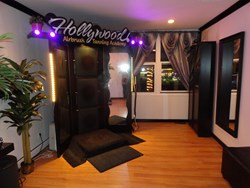 Some of the many things that makes Simone's Airbrush Tanning unique is her state-of-the-art airbrush tanning studio with professional ventilation and her flawless spray tanning technique
Studio City, CA (PRWEB) November 22, 2013
People looking for custom airbrush tanning services during the Thanksgiving holiday week can receive lucrative Holiday deals at Simone's Airbrush Tanning located in Studio City, California. This Los Angeles based airbrush tanning salon has just launched an excellent Thanksgiving holiday deal for the nearby residents of Studio City, North Hollywood, Sherman Oaks and Toluca Lake. This special deal offers one custom airbrush tan for $39 for 1 person or 2 custom airbrush tans for 2 people. This limited time offer will be valid until the 28th of November, 2013 and customers interested in this special must mention this press release when making the appointment.
It is relevant to mention here that the month of November has also been designated by the American Academy of Dermatology as the Healthy Skin Month. The special deal from Simone's Airbrush Tanning is an incentive from the company to spread awareness about maintaining healthy skin by safeguarding the skin from harmful UV rays. Airbrush tanning has gained immense popularity in the recent years as a healthier alternative to traditional tanning. The most beautiful thing about airbrush tanning is that it doesn't involve exposure to sunlight and it only takes 10 minutes to spray tan a person. Since their inception in the year 2008, Simone's Airbrush Tanning has played a significant role in helping people in Los Angeles achieve glowing, tanned skin and staying healthy at the same time. Some of the many things that makes Simone's Airbrush Tanning unique is her state-of-the-art airbrush tanning studio with professional ventilation and her flawless spray tanning technique. She also uses only the best organic and vegan solutions on the market that don't smell, feel sticky and fade like a natural looking tan.
Simone's Airbrush Tanning is owned and managed by Simone Emmons, one of America's most respected spray tanning experts. Apart from running her own spray tanning salon, Simone is also a renowned mentor and trainer sharing her professional expertise with the future spray tanning experts of America. Simone's training institution "Hollywood Airbrush Tanning Academy" is one of the most popular airbrush tanning training destinations in the country. Individuals interested in becoming an airbrush tanning professional can visit the website at HollywoodAirbrushTanningAcademy.com
Announcing her company's Holiday Special, Simone said, " The holiday season is just around the corner and this special offer is just a token of my sincere appreciation to Los Angeles residents. My Holiday Special is $39 for one Spray Tan or $55 for yourself and a friend. Please don't forget to bring your friend to the same appointment in order to qualify for this special. This is also an initiative to spread healthy skin awareness as this month is the National Healthy Skin Month."
About Simone's Airbrush Tanning:
Simone's Airbrush Tanning is a popular airbrush tanning salon located in Studio City, California. In addition to in studio spray tanning sessions, Simone's Airbrush Tanning also provides mobile airbrush tanning services in Sherman Oaks, North Hollywood, Toluca Lake & West Toluca Lake, Universal City, Studio City, Hollywood Hills, Encino, Valley Village, Burbank, Glendale, Van Nuys, Tarzana, Woodland Hills. Simone also offers her service for spray tanning parties. Simone Emmons is a licensed and certified spray tanning technician and also the founder and chief trainer of the Hollywood Airbrush Tanning Academy.