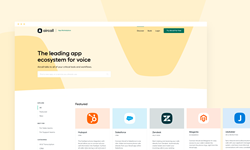 Aircall has grown tremendously because we're fueled by the idea that every conversation matters and should be connected with your critical business tools.
NEW YORK and PARIS (PRWEB) December 19, 2019
Aircall, a leading provider of cloud-based phone and call center software for scaling businesses, announced the availability of their App Marketplace at TechCrunch Disrupt in Berlin.
Jonathan Anguelov, Aircall's co-founder and Chief Operating Officer, presented from the main stage to make this announcement. He also shared updates on the company's overall growth in the four years since initially taking the stage at TechCrunch Disrupt 2015 in San Francisco. The company has reached impressive milestones including hiring over 300 employees for two offices in Paris and New York City, acquiring 4000+ clients from 100+ countries, and raising just over $41M in funding.
The announcement of the App Marketplace reinforces the company's vision that every voice conversation matters and should be integrated with all critical business tools. The introduction of 50+ turn-key integrations with widely used business technologies such as Salesforce, Slack, Hubspot, Segment, Shopify, and other leading SaaS solutions demonstrates the importance of unifying voice data across an entire business tech stack.
Further proving the value of Aircall's ecosystem is the growth of partner-built integrations such as Gorgias, an eCommerce helpdesk platform, and new startups such as Postcall.io, a survey application for capturing after-call feedback built specifically to serve Aircall's customers.
"Aircall has grown tremendously because we're fueled by the idea that every conversation matters. Our platform connects with all of your critical tools and workflows so that businesses stop losing valuable data from their phone calls. Today, with the announcement of our App Marketplace, we're thrilled to be creating the leading ecosystem for voice with best-in-class technology partners," said Aircall co-founder and CEO Olivier Pailhes.
"From CRM, helpdesk, and productivity tools such as Slack and Microsoft Teams, to A.I. and transcription, data tools, and survey solutions — we've only just started to explore the possibilities of our integrations," added Anguelov. "We can't wait to see all of the innovative apps Aircall will build together with our partners to amplify the power of voice."
Creating an open ecosystem where Aircall can connect with virtually any app makes innovative solutions accessible to its customers, while also fueling the discoverability and growth of its partners. The partnerships created by these integrations accelerate the company's roadmap to build the industry's largest and most innovative App Marketplace for voice — a clear differentiator from the legacy business desktop phone and simple softphone solutions that have no or very limited integrations.
Watch the TechCrunch Disrupt presentation here. To learn more, visit Aircall.io/app-marketplace.
About Aircall
Based in Paris and New York City, Aircall is the cloud-based phone system of choice for modern brands. Thousands of businesses worldwide trust Aircall for its simple set-up, seamless integrations, and proven quality. Aircall allows sales and support teams to have meaningful and efficient phone conversations and integrates with the most popular CRM and Helpdesk tools. Managers can instantly add numbers from 100+ countries, scale their teams, and gain data-driven insights. Unlock the power of voice communication at aircall.io.