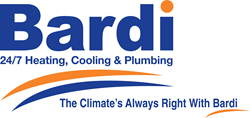 Save 50% on plumbing and 25% on HVAC repairs and plumbing services.
Atlanta, GA (PRWEB) June 10, 2014
Atlanta air conditioning repair company, Bardi, is currently offering summer savings for residential diagnostics and repairs on both HVAC systems and available for plumbing services. Coupons are available on Bardi's website.
Bardi is currently offering the following summer savings coupons for residential HVAC services:

Up to $1,700 in rebate savings available through June 13. Get up to a $1,300 rebate on qualifying Lennox home comfort systems, $100 rebate on an iHarmony Zoning System and a $300 rebate on solar panels.
25% percent off HVAC repairs on day of service, up to $125. In honor of Bardi's 25th Anniversary, this discount is available to new members who join the Friends of Bardi Maintenance Club.
Residential plumbing savings offered include:

50% savings on plumbing. Receive $200 in plumbing services for just $100 including inspection and repair of all plumbing components.
25% off up to $125 plumbing repairs on day of service for new customers who sign up for the Friends of Bardi maintenance plan.
The Friends of Bardi Service Plan includes two HVAC inspections and one plumbing inspection per year, complimentary HVAC performance reports, a lifetime craftsmanship warranty, a 50% discount on emergency travel fees, free plumbing valve tags, free pickups for electronics recycling and other members-only discounts.
About Bardi Heating, Cooling and Plumbing:
Bardi Heating, Cooling and Plumbing is a family-owned HVAC and plumbing company in Atlanta. Founded in 1989 by Alex and Susan Bardi, the company has been providing the Atlanta area with quality HVAC services for 25 years. Bardi also offers plumbing repairs and services, and is home to an experienced management team as well as an outstanding team of NATE certified technicians, whose number one priority is to keep their customers satisfied by "always, always, always doing the right thing." Bardi provides free electronics pick-up and recycling on all service calls benefiting Nobis Works. For more information about energy efficient HVAC products, visit http://www.bardi.com or call 770-263-5355.