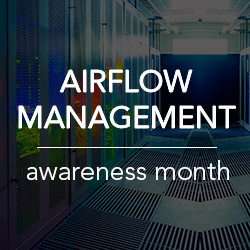 We're heading into summer, so it's a good time to talk about data center airflow management.
Albuquerque, New Mexico- (PRWEB) June 07, 2017
"We're heading into summer, so it's a good time to talk about data center airflow management. We have a bunch of great topics lined up for this year's Airflow Management Awareness month," said Al Zoldos, President of Upsite Technologies.
Upsite's focus for this year's AFM Awareness month is broad spectrum with planned webinars to assist those just embarking into airflow management as well as more advanced topics. The entire month will be a journey from basic to more advanced airflow considerations. We'll explore data center airflow management best practices as well as a look at what the future may hold for data centers. A secondary goal of this year's AFM Awareness Month is to assist information technology managers and technicians, as well as facilities' managers and personnel, in having cohesive discussions with each other about implementing airflow management changes and best practices. Upsite hopes that this year's webinar sessions will allow the two departments of a data center's organization to gain a common language and knowledge base which will allow them to make better, more informed decisions regarding their airflow management needs.
Upsite has one free webinar planned for each week in June. Lars Strong, Senior Engineer and Chief Science Officer at Upsite Technologies will lead an introductory level discussion on Airflow Management 101 on June 7th and a staple discussion on Hot vs. Cold Aisle Containment on June 21st.
There will also be two guest speakers; Bill Kleyman, CTO of MTM Technologies, will join Lars on June 14, to talk about the State of the Data Center - Data Center Airflow and the Digital Evolution. And wrapping up the month, on June 28, Upsite will be interviewing Hassan Moezzi, CEO of Future Facilities Ltd, on The Virtual Facility for Data Centers - The Most Cost-Effective Way of Managing Today's Data Centers.
Airflow Management Month begins on June 7th and runs through the end of June.
Registration for the webinars is free. Visit http://www.upsite.com/airflow-management-awareness-month/ to sign up for any or all sessions.
About Upsite Technologies, Inc.
Upsite Technologies, Inc. was founded in 2001 by Ken Brill, creator of the Uptime Institute, and is an industry leader in data center airflow management and cooling. Upsite provides an award-winning suite of products and services, including KoldLok®, HotLok®, AisleLok®, and EnergyLok®, which are designed to optimize data center cooling systems, allowing managers to maximize cooling capacity while reducing energy costs.
Upsite Technologies, Inc. distributes its award-winning line of services and products through leading channel partners in the data center industry throughout the United States, EMEA, and the Asia-Pacific regions.