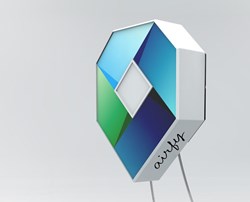 airfy is one of the sexiest Wi-Fi routers I've ever seen.
New York, NY (PRWEB) December 17, 2013
Not content with boring black boxes that light up, tech-savvy airfy announces a new way to access WiFi easily, securely and stylishly with the airfy router, the world's first smart WiFi hotspot. The trendsetting company has just launched an Indiegogo campaign with a goal of 20,000 dollars to bring the device to market by September 2014. While other routers sit in the corner to do their jobs, the airfy takes center stage with its modern and fresh design complete with LED lights that can be configured for a variety of notifications.
With its attention-getting style, the airfy has already turned heads and gained a following from those who recognize its game-changing style and function. TechCrunch's John Biggs describes its unique looks as "a cross between an Art Deco lamp and a Legend of Zelda Rupee," and says, "airfy is one of the sexiest Wi-Fi routers I've ever seen." Not to be just a pretty face, the airfy router backs up its good looks with an astounding amount of technology that puts a new spin on concept of just what a WiFi router can do.
"Airfy is built by Linux, WiFi and business nerds who have invested their experience from the last 10 years in this product," explains airfy founder Steffen Siewert. "Words cannot do justice to the huge features list, options and details. And that's okay because when you use it, it's not important why and how it works, as long as it works and the feeling of using it is simply, 'wow.'"
Airfy's suite of features makes it almost incomparable to a standard WiFi router because it can do so much more than just provide internet. As a WiFi hotspot for home and business, airfy provides easy and secure WiFi to customers and friends. All of airfy's hardware technology is available through the airfy smartphone app, allowing businesses and individuals to monitor the airfy from any location. Additionally, airfy's customizable LED lights can be programmed via the app and set to flash with an incoming call, with Facebook updates, and much more. airfy's completely hands-off set-up, known as ZeroConfig, replaces the headaches of setting up traditional routers with one simple step—just plug the airfy into an internet router.
With a goal to reach 20,000 dollars to take the router to market, airfy's stretch goal includes HomeSecurity, airfy's security system complete with an integrated camera, sensors and an external audio jack. This technology would allow users to watch a live stream of their home through the app, providing a complete home security solution. Using Indiegogo to fund the product development needed, the company offers a variety of handsome perks for supporting the campaign to bring airfy to the world.
About airfy:
The creation of airfy supports founder Steffen Siewert's vision to design a smart, customizable, cool WiFi hotspot that could be supported with an app to do the things that make life easier and more efficient. With airfy, all of these goals have been realized in one revolutionary new product. airfy is well on its way to meeting its goal of being available across the globe in every public space in the span of just a few years. For more information, visit http://www.airfy.com/indiegogo.