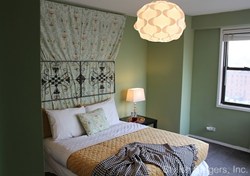 To help save money on staging costs, stage a guest room with an air mattress instead of a regular bed.
Utah (PRWEB) August 14, 2013
AirMattress.com recently spoke with Tori Toth, a certified Home Stager, to discuss staging a guest room with a raised air mattress for those staging their homes on a budget. In addition to being a certified Home Stager, Toth is the owner and lead designer of Stylish Stagers Inc., a professional staging company based out of New York City.
Even in slow markets, staging a home usually results in a higher bid and shorter time spent on the housing market. According to the Real Estate Staging Association (RESA), staged properties spend 73% less time on the market than non-staged properties. Non-staged homes were on the market for an average of 166 days before the homeowner had the home professionally staged. Once the home was staged it sold, on average, in 32 days.
In an exclusive interview with AirMattress.com, Toth gives specific tips on how to stage a guest room with a raised air mattress.
Give the room a defined purpose – By turning the spare bedroom into a purposeful guest room, a potential buyer has a clear idea of how the space can be used. Keep the size of the room in mind when choosing which bed size to use. Toth adds that she uses a queen air mattress since it maximizes space even when a room tends to be smaller.
Create additional pieces – A headboard accents the bed and helps disguise that it is an air mattress. Not only that, but Toth says the purpose of the headboard is to help draw "the buyer's eye to the bed." In addition to the bed, Toth recommends "completing the look with nightstands, table lamps and if needed artwork over the bed; however, that could be used as your headboard too!"
Since rooms are used for more than just sleeping, a guest room can reflect this utility. Toth says, "Besides the bed, the guest room should also have a seating area to curl up and read a good book or can have a desk/office space for smaller homes that need rooms to be multi-functional."
Light the room – If the room is poorly lit, then staging will not be as effective. Lighting gives a room an inviting atmosphere to potential buyers.
Toth explains the best way to light the guest room, "You want to create a triangular effect, which means using three light sources throughout the room that creates a triangle; the ceiling light can count as one light source. Another way to lighten the room is use a light paint color on the wall and have the windows cleaned with the window treatments flanking the window."
Colors to use for bedding – While many people recommend using neutral colors, Toth emphasizes that the bed is centerpiece of the room, "Think hotel room, when buying bedding, yes neutral colors are great but the bed is the focal point so you want to make sure the bedding is appealing to the buyer demographics."
Clean and iron bedding – This simple step can be overlooked. Ensure all bedding, sheets and pillowcases are washed. Iron out any wrinkles, paying particular attention to the bed skirt. If the bed looks messy, it will take away from the effect of the room; no matter how nicely it's been decorated.
Air mattresses with a classic height – If pressed for time, it's possible to use a nine inch air mattress instead. To get the height, use a frame for the air mattress. While a large metal frame might be difficult to manage, there are other alternatives. Toth advises using bed lifts, cardboard boxes or a buying a frame from Ikea. Just ensure no one sits on the bed.
About AirMattress.com
AirMattress.com offers raised airbeds from six different brands in each size. Since raised air mattresses vary from 18 to 25 inches in height, this makes them ideal for staging. Detailed photos are offered on each product prior to purchase. For more information please visit http://www.airmattress.com or call us Toll-Free at 1-800-378-5817.