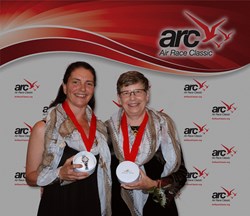 (PRWEB) December 30, 2013
The annual Air Race Classic entry opens on January 2, 2014 at noon (EST). Over one hundred female pilots compete each year.
The Air Race Classic, Inc. (ARC) is a nonprofit organization dedicated to educating current and future women pilots while increasing public awareness of general aviation.
The annual ARC attracts competitors from all ages and regions of the world. In 2013, there were pilots from Kosovo, Japan and Italy who joined other US pilots in the ultimate four day air race challenge.
Michelle Bassanesi originally from Sydney, Australia, now living in Rome, Italy competed in her first ARC with teammate, Gretchen Jahn of Broomfield, CO in 2013. The pilots met years prior while participating in the Around New Zealand Air Race (ANZAR). After several years, the two collaborated and decided to compete in the ARC. This marked Jahn's seventeenth year to compete in the ARC.
The collaboration proved successful as their team, The Dream Catchers, were Reserve Champions in the race.
The 2014 route will begin in Concord, CA on June 16, 2014 and ends in New Cumberland, PA three days later with 2,300+ nautical miles in between. The route changes every year and is a highlight of the year for the female aviators.
Racer entry deadline is April 1, 2014. To apply, visit http://www.airraceclassic.org.