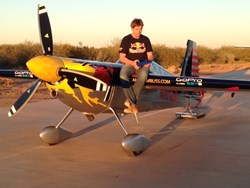 "We look forward to participating with the launch of the over fifty airplanes in this year's race." - Anthony Chan
Chino, California (PRWEB) February 20, 2014
The longest running cross country air race, the Air Race Classic, is getting on track with the latest in tug technology for this year's race. Each competitor in the race is a female pilot and having a tug that can assist the needs of women is not any easy feat. Luckily the technology of innovator Anthony Chan is a natural fit for the air race with the AC Air Technology aircraft tug.
Remote control operation of these tugs allow the operator to tow and park aircraft up to 1,500 feet away, with full control of the tug. This makes moving and parking the aircraft easy and provides great visibility to avoid collisions and damage to aircraft.
Chan, a successful inventor and entrepreneur, introduced AC TrackTech tugs to the aviation industry during EAA AirVenture, Oshkosh, in 2012. He pilots four of his own aircraft and is the hands-on manager of his large factory in Chino, Calif. His passion for aviation lead to the development of AC TrackTech Tugs.