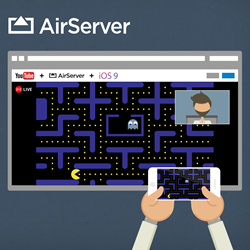 Gamers can now stream their favorite iOS games in real-time.
Tokyo, Japan (PRWEB) September 17, 2015
AirServer, the leading cross-platform AirPlay software receiver, is introducing YouTube live streaming at Tokyo Game Show 2015. This major update provides seamless and easy-to-use streaming functionality via YouTube's redesigned live streaming platform. Gamers, educators and other users can now share their AirPlay mirroring sessions with anyone in the world in real-time, while personal commentary can be added to streams using a webcam and a microphone.
The new version of AirServer also brings full compatibility with iOS 9 and the upcoming OS X El Capitan, in addition to introducing other powerful new features such as retina quality mirroring, ultra-high quality video recording and full data encryption over AirPlay.
"People are already using AirServer to live stream to various sites through third party solutions. We are delighted to provide this feature directly in AirServer in collaboration with YouTube," said Pratik Kumar, CEO and founder of App Dynamic. "Gamers can now stream their favorite iOS games in real-time while educators providing distance learning will also benefit from the new streaming functionality."
AirServer is the most popular software receiver for AirPlay and Miracast, and is used by gamers, educators, consumers and businesses in over 100 countries around the world.
App Dynamic is a leading developer of enhanced device experience software. Our unique AirPlay implementation in AirServer has revolutionized its use in classrooms, businesses, hotels, home theatres and gaming. Our popular titles include AirServer, Remote HD and Air Media Center, all of which are actively used by millions of users worldwide.