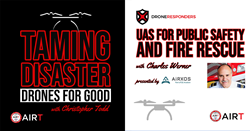 AIRT's new podcast series will be a benchmark for those looking to solve real world problems through the use of UAS technology - Ken Stewart, CEO, AiRXOS
MIAMI (PRWEB) June 01, 2020
The Airborne International Response Team (AIRT), the leading 501(c)3 non-profit organization supporting Drones For Good™ and the official home of DRONERESPONDERS, today launched a new dual-program podcast series highlighting the use of unmanned aircraft systems (UAS) and related technology across the emergency management and public safety sectors.
The AIRT podcast series is presented by AiRXOS, a part of GE Aviation, with additional support provided by FIRST iZ and Pix4D.
AIRT podcast Series A, TAMING DISASTER: Drones For Good hosted by Christopher Todd, premieres today and will explore how emergency managers, disaster response professionals, and non-governmental and humanitarian organization volunteers are using UAS to make a positive impact around the world.
Todd is a Certified Emergency Manager® and Florida Professional Emergency Manager and FAA-certified Part 107 Remote Pilot, who serves as the executive director of AIRT. He also serves on the command staff of the Florida Region 7 All-Hazards Incident Management Team based at the Palm Beach County Fire Rescue Department. He has operated drones in a wide variety of disaster-related deployments over the past several years.
Podcast Series B will feature DRONERESPONDERS: UAS for Public Safety and Fire Rescue hosted by Charles Werner. The program will highlight the way public safety agencies across the U.S. and around the world are using drones to help save lives and protect property while also increasing first responders' safety.
Werner is the retired fire chief of the Charlottesville, Virginia fire department, who has become one of the world's most recognized advocates for the use of drones by public safety departments. Known as "The Technology Chief," Werner was among the first fire chiefs in the country to attain his FAA Part 107 certification. He has served on numerous advisory boards championing the use of new technology across the public safety sector. Werner now serves as the director of the DRONERESPONDERS program.
"We are extremely grateful to the support from AiRXOS, FIRST iZ, Pix4D, and our other corporate patrons who helped enable the launch of this exciting new podcast series," says Werner. "We are committed to venturing behind the scenes to highlight the stories about how drones and related technology are helping to make a positive difference in people's lives."
A new episode of either Taming Disaster or DRONERESPONDERS will be released each Monday, with the shows alternate weeks throughout the calendar year. The goal is to consistently deliver high-quality audio content that targets operators and aficionados of unmanned systems for law enforcement, firefighting, search and rescue, emergency management, security, and disaster relief missions.
"UAS is a strategy and force multiplier for pubic safety agencies, but they need turn-key solutions that enable a faster way to fly with full compliance and situational awareness built in to truly be effective," said Ken Stewart, CEO, AiRXOS. "The AiRXOS Public Safety solution delivers those capabilities in one seamless application. As we continue our work with public safety agencies, we're pleased to support AIRT in their education of agencies on UAS technology and the public on the use of Drones for Good. We're looking forward to their new podcast series – it will be a benchmark for those looking to solve real world problems through the use of UAS technology."
To access the AIRT Podcast Series presented by AiRXOS with support from FIRST iZ and Pix4D, please visit airt.ngo/podcasts or look for TAMING DISASTER: Drones For Good and DRONERESPONDERS: UAS for Public Safety and Fire Rescue on Apple Podcasts, Google Podcasts, or your favorite podcast app.