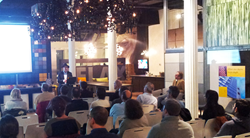 New York City (PRWEB) September 30, 2014
The Passive House and high-performance building industry is growing in North America. Because Passive House airtightness has become the norm in Europe over the past decades, building science professionals from Europe are increasingly sought after to convey lessons regarding airtight construction. 475 High Performance Building Supply, a New York-based company specializing in airtight building materials, is responding to demand by organizing a speaking tour of West Coast cities with German ecological building innovator, Lothar Moll, set to begin October 20, 2014.
Mr. Moll is CEO of Pro Clima, an ecological building product manufacturer, which played a significant role in the development of the German building sector toward airtight construction methods. The upcoming events mirror an East Coast speaking tour completed in 2013 where his presentations were attended by over 100 professional architects, engineers, and Passive House enthusiasts between Boston and Washington DC.
Presentations will cover details of building enclosure physics, Mr. Moll's expertise, and include topics such as airtight building envelope design, vapor control, energy efficiency, and ecological material concerns. Information will be tailored to the Pacific Northwest and Northern California climate zones.
· Oct 20, Vancouver, BC: 5:30pm – 8pm, Jericho Sailing Centre
· Oct 21, Seattle, WA: 4pm – 6pm, Bullitt Center
· Oct 23, Portland, OR: 4pm – 6pm, Earth Advantage Institute
· Oct 24, Emeryville, CA: 3pm – 5pm, Association for Energy Affordability
With a degree in Engineering Wood Technology Study and Industrial Engineering, Mr. Moll established MOLL bauökologische Produkte GmbH, an environmentally focused building product business, in 1979. Additionally, he co-founded the Institute of Building Biology + Ecology Neubeuern (IBN), the first information office about ecological building methods. In 1986 Moll developed the first ecological airtightness system, which was upgraded in 1991 with the first humidity-variable vapor check, later endorsed by The Fraunhofer Institute of Building Physics in 1994. This led to the launch of the Pro Clima trademark in 1994 and a full range of professional products to achieve an airtight building strategy.
All events will be free and open to the public. More information is available on the 475 High Performance Building Supply website: foursevenfive.com.