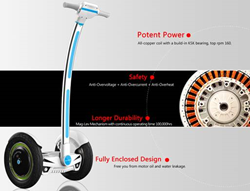 Airwheel S3 Electric Scooter Kills Unhealthy Lifestyles
(PRWEB) November 14, 2014
Sometimes travel is for a getaway from the boring day-to-day routine, and the fresh hands-off experience matters much more than the destination. Step on Airwheel S3 and get from point A to point B, to experience something fresh. Airwheel S3 is meant for exploring the unknown and unleashing the wild imagination of the euphoria of the nature and freedom.
Airwheel S3 electric scooter can be used as a transporter as well as a workout gadget. It is a cool invention meant for everyone and sees huge market capacity. Airwheel S3 is designed to be light, compact with top speed 18km/h and battery range 25-65km. Powered by a Japan-made Li-ion battery, it delivers potent power and superior steering experience and is prevailing among gym-goers, commuters and so on.
Get away from offices, cabins, smart phones and computers, leave behind all the unhealthy lifestyles and troubles, there's nothing better in the world than returning to the nature and discovering the beautiful scenery around on an Airwheel S3.
Soon after Airwheel S3 kicked off its global marketing plan, thanks to the various marketing campaigns including experience-oriented marketing, intensive advertisement, free trial and word-of-mouth marketing, Airwheel S3 electric scooter has won global awareness and popularity, which paves the road for its distributors and dealers. In addition, the diversified distribution channels including retail, wholesale (B2B), online shop, rental service contributes to a golden lucrative opportunity for all the distributors and dealers.
About Airwheel Technology Co., Ltd
Airwheel Technology Co., Ltd. offers state-of-the-art means of transportation, adopting the aerospace attitude control theory, fuzzy software algorithm, and gyroscope system to maintain balance by leaning forward and backward. Airwheel is the greenest and lightest smart unicycle which can be easily carried into buses or subways to facilitate daily commuters. Airwheel boasts of 3 major R&D centers located respectively in L.A (U.S), Beijing and Changzhou.
For Media Inquiries –
Contact Person: Eric
Telephone: +86-519-8829-6900
Email: business(at)airwheel(dot)net
Facebook: https://www.facebook.com/airwheeltechnology
Twitter:https://twitter.com/AirwheelCZ
Electric Unicycle Website: http://www.airwheel.net