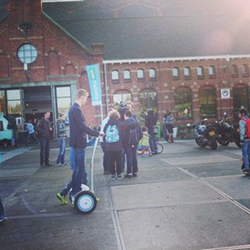 Airwheel S3, an intelligent scooter is open for distributor recruitment
(PRWEB) December 08, 2014
According to Eric, Airwheel's marketing director: "The 2-wheeled self-balancing personal transporter Airwheel S3 saves more parking space than Mini Cooper and kicks ass of the other cars." The debut of Airwheel S3 exemplifies an optimal combination of intelligent technology and transportation, which offers a solution for short commute, parking space shortage, traffic congestion and "phubbing". In this modern era, people are suffering from either overcrowded public transportation system or car-packed roads day to day in rush hours. Consequently commuters are too bothered and upset to appreciate cityscape along the way, and kids get addicted to smart phones and PCs instead of communicating with real-world friends. It's time for a change. To answer the call of "Low-carbon Living, Go Green, Energy-efficient and Time-efficient", Airwheel S3 electric scooter has started a groundbreaking revolution of lifestyle and commute style, which will recall people's passion of commute and outdoor sports.
Mini Cooper is well known for its unique couture and sharp operating performance, which are also the killer features of Airwheel S3 electric scooter. As a revolutionary hi-tech product, offers an optimal solution for the current traffic problem as well as a profound influence to the future transporters. Airwheel S3 electric scooter follows the principle of "Dynamic Balance" and ergonomic design, which is easy to learn and control as an ideal portable transporter and outdoor workout gear.
Thanks to the precise product positioning and the avant skate culture, Airwheel S3 electric scooter is leading the latest trend of eco-friendly commute and sportive style. With the mature distribution mode, various marketing means, a sound after-sales system and thorough tech support, Airwheel sketches a lucrative prospect for its partners.
Airwheel S3
Keen to introduce a brand new lifestyle to others? Willing to spread a LOHAS life concept (Lifestyles of Health and Sustainability)? Airwheel S3 scooter is dedicated to realize the dreams above. Now Airwheel S3 electric scooter has kicked off global marketing campaign and starts recruiting experienced and competitive entities worldwide as its strategic partners. Join Airwheel global family to share a bright future.
About Airwheel Technology Co., Ltd
Airwheel Technology Co., Ltd. offers the state-of-the-art personal transporter solutions, which is based on the aerospace attitude control, fuzzy software algorithm, and intelligent gyroscope system to maintain balance by leaning forward and backward. Airwheel manufactures the greenest and lightest smart unicycle which can be easily carried into buses or subways to facilitate daily commute. Airwheel boasts of 3 major R&D centers located respectively in L.A (U.S.A), Beijing and Changzhou.
For Media Inquiries –
Contact Person: Eric
Telephone: +86-519-8829-6900
Email: business(at)airwheel(dot)net
Airwheel Scooter S3 Website: http://www.airwheel.net