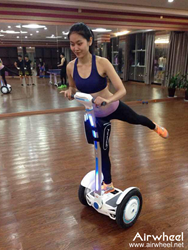 Electric scooter Airwheel S3: a fresh and unique 'private car'
(PRWEB) December 11, 2014
The recent launch of Airwheel S3 has infused fresh blood into the electric vehicle industry. One cannot name a single private car that is handier than the electric self-balancing scooter Airwheel S3. Airwheel global branding strategy director expresses his gratefulness to distributors and media here. Since the birth of the world's first electric bike, the electric transporter industry has undergone numerous ups and downs in decades. Competitions between major brands have gone fierce, and now the latest personal transporter, electric self-balancing scooter, is also taking advantage of the mature market.
It covers the last few miles for private cars and represents the ongoing trend of intelligent transportation. Consequently product innovation and upgrade is the key for an enterprise to take initiative in this war. Airwheel Technology, thanks to its unique insight, launches the brand new electric scooter Airwheel S3 to sharpen its edge and expand the market. Currently, Airwheel gets down to building industry bases in the Netherlands and Germany, which aims to expand its market share in Europe and America.
Airwheel electric scooter S3 has been dedicated to the optimization of every procedure in product design, technology innovation and quality. S3 is equipped with a leading sensor based on an independently developed self-balance system. It escorts riders' safety whilst guaranteeing agile response. The driving system is highlighted by a powerful and noiseless maglev motor, which helps alleviate noise pollution for a better environment. In addition, it's powered by a Japan-made Li-ion battery core mounted by an intelligent energy management system for long range. When it comes to the tire, control module and handlebar, Airwheel S3 also implements the premium branding concept for better quality and experience. The LED flash lights on the control shaft ignite the night driving experience by its distinctive flashing and flowing effect. Furthermore, the latest 9-pin connector protects the joint against violent set-up. Mounted with a magnified 4in LED panel, Airwheel S3 gives clear indication of lights, battery range, speed, temperature, battery level, ect.
Besides electric scooter, Airwheel has kicked off a global promotion campaign for electric self-balancing scooter to shape a strategic framework based on dual product lines.
About Airwheel Technology Co., Ltd
Airwheel Technology Co., Ltd. offers the state-of-the-art personal transporter solutions, which is based on the aerospace attitude control, fuzzy software algorithm, and intelligent gyroscope system to maintain balance by leaning forward and backward. Airwheel manufactures the greenest and lightest smart unicycle which can be easily carried into buses or subways to facilitate daily commute. Airwheel boasts of 3 major R&D centers located respectively in L.A (U.S.A), Beijing and Changzhou.
For Media Inquiries –
Contact Person: Eric
Telephone: +86-519-8829-6900
Email: business(at)airwheel(dot)net
Electric Scooters Website: http://www.airwheel.net