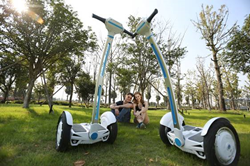 Airwheel 2-wheeled Electric Scooter: A Masterpiece of Intelligent Transporter
US (PRWEB) November 12, 2014
Airwheel 2-wheeled electric scooter is the latest masterpiece inspired by the concept ITS. Nowadays, ITS (Intelligent Transport System) is not new to the public. It was first brought forward in the U.S back in the 1980s and was intended to tackle problems regarding expanding traffic capacity, enhancing transportation security, cutting down energy consumption and emissions, etc. Today the concept of ITS has become reality.
With the continuing progress of science and technology, new intelligent transporters represented by Airwheel 2-wheeled electric scooter have been widely applied to people's everyday lives. As the state-of-the-art transporter, Airwheel electric scooter plays a significant role in short trips, energy saving and emission reduction, congestion alleviation as well as daily recreation and workout.
Compared with other scooters, Airwheel 2-wheeled electric scooter makes remarkable improvement in safety and comfort during usage. It is powered by a Sony/Panasonic lithium battery core which features solid performance, no memory effect, long life expectancy as well as flame and explosion retardant. In addition, the unit is controlled by world's leading intelligent drive system which provides awesome self-balance. Its casing is built by hi-tech synthesized nano-resin which integrates the advantages of single materials and avoids shortcomings like intolerance of aging, impact, resilience, heat and corrosion. Moreover, riders are protected by an intelligent chip which activates safety measures such as speed limit protection, low battery protection, tilting protection, battery protection and charge protection when necessary. The user experience is optimized by Airwheel's ergonomic design: smoother operation, better comfort, lower energy consumption and adjustable pedal height.
Inspired by the concept of ITS, Airwheel 2-wheeled electric scooter has caused a global sensation to the intelligent transportation industry. It provides an eco-friendly solution for people's daily commute and has been a must in many countries in Europe and America.
About Changzhou Airwheel Technology Co., Ltd.
Airwheel Technology Company offers state-of-the-art means of transportation, adopting the aerospace attitude control theory, fuzzy software algorithm, and gyroscope system to maintain balance by leaning forward and backward. Airwheel is the greenest and lightest smart unicycle which can be easily carried into buses or subways, facilitating daily commuters. Airwheel boasts of 3 major R&D centers located respectively in L.A (U.S), Beijing and Changzhou.
For Media Inquiries –
Contact Person: Eric
Telephone: +86-519-8829-6900
Email: business(at)airwheel(dot)net
Facebook:https://www.facebook.com/airwheeltechnology
Twitter:https://twitter.com/AirwheelCZ
Youtube:https://www.youtube.com/channel/UCyaQqGma-vkYxZu4HIZJbUw
For more about 2-wheeled electric scooter, please visit http://www.airwheel.net