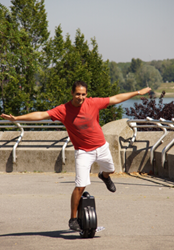 Airwheel, n professional brand of electric unicycle, is on its way to conquering the global market.
(PRWEB) November 14, 2014
Airwheel electric unicycle is an independently developed high-end intelligent transporter which realizes precise and agile control thanks to aerospace attitude control, a fuzzy software algorithm and a leading gyro-system. Riders control the unit via leg movements without the involvement of hands. Once launched in European and American markets, it has achieved high recognition as the optimal solution to alleviate traffic congestion and to commute eco-friendly.
Compared with traditional transporters such as the car, bike, motorcycle and train, Airwheel electric unicycle is not gasoline-fueled, and takes up much less space, which contributes to lower daily commute costs and a more eco-friendly lifestyle. With its super popularity and premium reputation, Airwheel electric unicycle is alleged by analysts as one of the most promising transporters. As any demanded product enjoys broad market potential, Airwheel electric unicycle has become a hot product inquired by numerous European and American distributors, and the CE certification cleared the last barrier on the road.
In order to conquer the global market soon, Airwheel commits an all-around support to partners regarding brand authorization and to develop the market together and boost the sales volume. Currently, Airwheel electric unicycle is recruiting interested customers worldwide to share the fruit of the brand. Airwheel Nederland BV, Airwheel's official distributor in the Netherlands, assures that Airwheel products will see a limitless future. With enhanced support to end dealers and exclusive distributors, the worldwide prevalence of personal transporters for short trips is underway.
About Airwheel Technology Co., Ltd
Airwheel Technology Co., Ltd. offers state-of-the-art means of transportation, adopting the aerospace attitude control theory, fuzzy software algorithm, and gyroscope system to maintain balance by leaning forward and backward. Airwheel is the greenest and lightest smart unicycle which can be easily carried into buses or subways to facilitate daily commuters. Airwheel boasts of 3 major R&D centers located respectively in L.A (U.S), Beijing and Changzhou.
For Media Inquiries –
Contact Person: Eric
Telephone: +86-519-8829-6900
Email: business(at)airwheel(dot)net
Electric Unicycle Website: http://www.airwheel.net