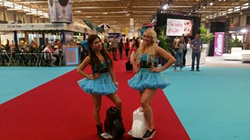 The Hot Self-balancing Scooter is Open for Distribution Opportunity
(PRWEB) December 01, 2014
The electric scooter, regarded as an ingenious workout gear for "phubbers", goes also by another name "self-balancing scooter". With the prevalence of smart phones, more and more kids and youngsters become "phubbers", who typically ignore friends and family for phone and addict themselves to mobile games or ebooks whenever they can. In order to alter this deviated phenomenon, Airwheel rolls out the self-balancing scooter to bring the young generation back to outdoor and the nature.
Airwheel self-balancing scooter integrates workouts, transportation and recreation functions, and intends to develop one's interest in workouts as well as promote one's balancing and coordinating skills. Consequently it'll contribute to a healthier lifestyle for kids and help them to get rid of addiction to smart phones. Being extensively approved with its workout and health concept, Airwheel self-balancing scooter is a latest hit among young people.
To improve a youngster's riding experience, Airwheel electric scooter is controlled by a cutting-edge self-balancing system and multiple protection measures. Thanks to a build-in Japan-made Li-ion battery, it delivers potent power which helps with climbing. It can carry a maximum load of 120kg at a top speed of 18km/h and covers a maximum range of 25km-65km per charge.
When it comes to safety, Airwheel self-balancing scooter outperforms similar products in exclusive protection measures. It features protected brake, acceleration, speedy protection, low battery protection and tilting protection. Riders step on and control the unit via forward and backward leaning of the body. In addition, the premium natural-rubber-made tire with complex anti-skip patterns guarantees superior grip effect on various terrains such as paved road, gravel road, gym, lawn and even on indoor marble surfaces.
From "phubber" to "Airwheeler," Airwheel electric scooter intends to bring kids and youngsters back to a healthy lifestyle. The booming market is attracting numerous investors to inquire and join. Now Airwheel is initiating a global marketing plan to speed up the construction of the global brand together with its distributors.
About Airwheel Technology Co., Ltd
Airwheel Technology Co., Ltd. offers the state-of-the-art personal transporter solutions, which is based on the aerospace attitude control, fuzzy software algorithm, and intelligent gyroscope system to maintain balance by leaning forward and backward. Airwheel manufactures the greenest and lightest smart unicycle which can be easily carried into buses or subways to facilitate daily commute. Airwheel boasts of 3 major R&D centers located respectively in L.A (U.S.A), Beijing and Changzhou.
For Media Inquiries –
Contact Person: Eric
Telephone: +86-519-8829-6900
Email: business(at)airwheel(dot)net
Self-Balancing Scooter Website: http://www.airwheel.net