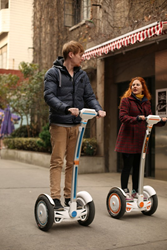 The Future Transporter, Airwheel Electric Scooter is Coming to New Zealand
(PRWEB) January 01, 2015
As an international market leader of electronic scooters, Airwheel owns a wide product line of electric unicycles with top quality and superb after-sale support. Airwheel New Zealand and its authorized suppliers are the only legal suppliers in New Zealand. If a customer purchases from any unauthorized suppliers either in New Zealand or abroad, then probably he/she has got a fake one, and thus his/her warranty becomes void.
An Airwheel self-balancing electric unicycle is super fast to charge. It is able to travel several miles by one single battery.
An Airwheel electric unicycle has many unique features that a fake one can never copy. High-elastic silicone fascias make an Airwheel electric scooter soft, flexible and comfortable. It also make the exterior durable and easy-to-clean. The strong and precise aluminum pedals, with anti-slide grips can be easily fold up and down. This ultimate self-balancing scooter features lightness, portability, convenience, easy operation and eco-friendliness. The built-in handle makes getting up and down a piece of cake.
The Airwheel self-balancing unicycle scooter is a cost effective and environmentally friendly alternative means of transportation.
The device regenerates energy back into the battery, when going downhill or slowing down. Easy to use, efficient and fun!
Using Airwheel does good to improving balance and core stability. Besides, the Airwheel electric unicycle has been designed and patented to release certain physically and neurologically impairments. Airwheels users with mobility or respiratory issues will love to experience this fresh and superb device. As always, please consult a doctor for specific medical advice.
Airwheel New Zealand takes pride in providing the highest level of customer support. It aims to bring products with the best quality and the most competitive prices to all the New Zealand consumers.
"Welcome to the future!"
About Airwheel Technology Co., Ltd
Airwheel Technology Co., Ltd. offers the state-of-the-art personal transporter solutions, which is based on the aerospace attitude control, fuzzy software algorithm, and intelligent gyroscope system to maintain balance by leaning forward and backward. Airwheel manufactures the greenest and lightest smart unicycle which can be easily carried into buses or subways to facilitate daily commute. Airwheel boasts of 3 major R&D centers located respectively in L.A (U.S.A), Beijing and Changzhou.
For Media Inquiries –
Contact Person: Eric
Telephone: +86-519-8829-6900
Email: business(at)airwheel(dot)net
Electric Scooters Website: http://www.airwheel.net