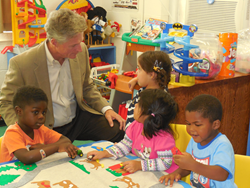 Seeing the children's happy faces upon receiving the Magic Carpets was priceless.
Parsippany, NJ (PRWEB) December 03, 2014
At a recent A.J. O'Connor Associates (AJO) "Coaches Forum", twenty-four executive coaches and several AJO corporate clients took part in a program led by Susie Schub, Founder and President of Caring Capital. Since 2008, Caring Capital has connected over 25,000 employees to their communities through philanthropic team-building events.
Volunteerism has always been a part of what AJO stands for. Past initiatives have included supporting organizations that feed the hungry, mentor at-risk youth, provide job-skills training, and assist families of fallen police officers; so it was a natural fit for AJO to partner with Caring Capital two years ago. This was the third philanthropic event in which our two organizations have partnered with a focus on philanthropic team-building on this occasion.
Susie introduced the group to a unique and simple approach to corporate team-building that AJO can offer its clients as team and leadership development initiatives. To demonstrate how easy it is to combine collegiality with team building, Susie engaged the Coaches Forum attendees in a Caring Capital philanthropic project. Assisted by one of her Master Teaching Artists, Susie facilitated the making of two large Magic Carpet Play Rugs for low-income, preschool-age children. There was great energy in the room as two teams worked together to complete their projects.
Following the event, Susie accompanied AJO President Andy O'Connor to the preschool at Morristown Neighborhood House where the colorful play rugs were donated. The Morristown Neighborhood House is managed by Cornerstone Family Programs whose mission is to help build better lives and stronger communities by supporting individuals, families and new immigrants who are confronting economic and other life challenges. Neighborhood House offers pre-school, after school, recreation, tutoring and parenting education programs to help give children the best start in life and help youth reach their full potential. Andy O'Connor noted after the visit that, "Seeing the children's happy faces upon receiving the Magic Carpets was priceless." View this clip for more images from this event.
Research has shown that companies involved in employee volunteerism and charitable giving benefit from the feel-good factor associated with these activities. In a 2006 study, Jorge Moll and colleagues at the National Institutes of Health found that when people give to charities, it activates regions of the brain associated with pleasure, social connection, and trust. Scientists also believe that altruistic behavior releases endorphins in the brain, producing the positive feeling known as the "helper's high." The presence of these endorphins in the body increases collaboration, cooperation, and engagement – all critical behaviors for success in the workplace. PriceWaterhouseCoopers reported that 88% of Millennials are attracted to companies with distinct Corporate Social Responsibility (CSR) programs, and 86% said they might leave their employer if the CSR no longer met their expectations.
Following Coaches Forum, one of AJO's participating clients engaged Caring Capital in a Human Resources Department team-building event for her organization, a leader in the biopharmaceutical industry. Replicating the magic carpet project, six magic carpets were donated to "Reach Out and Read" a nonprofit that prepares children to succeed in school by partnering with doctors to prescribe books and encourage families to read together.
About A.J. O'Connor Associates: For more than thirty years, AJO has partnered with individuals, teams and organizations to reach their goals in the areas of executive coaching, team and leadership development and career transition. AJO delivers uncompromising personalized service and customized solutions. Headquartered in New Jersey, AJO is a second-generation family owned business with a strong client base throughout the Northeastern United States. AJO's team of Executive Coaches and Senior Career Consultants offer expanded national and international coverage in twenty-eight U.S. States and twelve countries.
About Caring Capital: Caring Capital has linked the energy of corporate volunteers with the creativity of professional artists to serve neighbors in need since 2008. Employees at dozens of companies nationwide have made gifts for more than 108,000 children, families, seniors and service members.