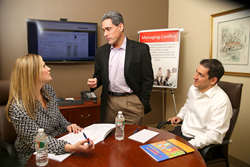 I am excited and proud to share news of four staff appointments which not only positions A.J. O'Connor Associates for future growth, but also paves the way for a third generation family-owned business.
Parsippany, NJ (PRWEB) June 23, 2015
HR Consultants, A.J. O'Connor Associates (AJO) is excited to announce the following key staff appointments that ensure we provide responsive, high quality service to our clients, as well as strengthen and position the organization for future growth.
JoAnn Graziano - VP, Finance and Administration
JoAnn brings a wealth of great experience to AJO, including accounting and office operations support to small through medium sized businesses; accounting for a professional services industry firm serving the pharmaceutical industry; and most recently, accounting and office operations for the Chatham United Methodist Church. She has a BA in Accounting from William Paterson University. You can reach JoAnn on the AJO office number and via her email: joanng(at)ajoconnor(dot)com.
Kyle O'Connor – Director, Client Services
Kyle joins AJO to support our growth and provide digital content to allow our HR Community to learn and grow. He was previously with ConvaTec Inc. where he accelerated growth in acute and post-acute sales, earning him the President's Club Award in 2012, 2014 and Rookie of the Year in 2012. Kyle brings over eight years of experience in diverse industries such as Medical Devices, Global Logistics, and Social Media. In addition, his previous experience includes regulatory affairs, content management and business to consumer sales.
Kyle received his MBA degree in International Business and Entrepreneurship from Seton Hall University and completed his undergraduate degree in International Business with minor in Spanish from the University of Scranton. You can reach Kyle on the AJO office number and via his email: kyle(at)ajoconnor(dot)com.
Jonathan L. Parker – VP, Client Services
Jonathan Parker has been with AJO for over 13 years, during which time he has actively supported service delivery for all practice areas, including executive coaching, leadership development, team building and career transition. In his current role, which he has held for over three years, Jonathan has successfully partnered with clients in a collaborative process of understanding and defining their needs, leveraging his extensive experience in service design; one-on-one coaching and group facilitation.
Jonathan has over 30 years of experience in Corporate Human Resources and Human Resources Consulting, in addition to extensive experience in Financial Services, Pharmaceutical, Consumer Goods and Non-Profit. He holds a Bachelor of Arts degree in Human Resources from Pace University and is a member of the New Jersey Human Resources Planning Group and Society for Human Resources Management. He received the 2006 Quality of Excellence Award for Creativity from the Association of Career Firms International. You can reach Jonathan on the AJO office number and via his email: jonathan(at)ajoconnor(dot)com.
Shannon O'Connor – Business Director, Team & Leadership Development
Shannon joined AJO five years ago. During her tenure, Shannon has gained progressive experience in all aspects of the business. In addition to supporting AJO's Team and Leadership Development Practice, she is responsible for leading our strategic initiatives. Noted accomplishments include managing a year-long leadership development project for a major pharmaceutical client; growing and strengthening AJO's Coaching Practice; and supporting key marketing efforts.
Shannon attended Mason Gross School of the Arts at Rutgers University. She is currently pursuing her BA in Organizational Leadership at Penn State. Shannon represents the third family generation at AJO. You can reach Shannon on the AJO office number and via her email: shannon(at)ajoconnor(dot)com.
Andy O'Connor, President of AJO advised, "I am excited and proud to share news of our staff appointments which not only positions A.J. O'Connor Associates for future growth, but also paves the way for a third generation family-owned business." Andy also extended a fond and sad farewell to Mary O'Connor who recently stepped down from her role as VP, Finance and Administration.
"All of us at AJO share a deep appreciation to Mary O'Connor for sixteen years of amazing service to the organization and all she has done to make us successful. We wish her continued success in her career and future endeavors. She will be missed."
About AJO
For more than thirty-two years, AJO has partnered with individuals, teams and organizations to reach their goals in the areas of executive coaching, team and leadership development and career transition. Headquartered in New Jersey, AJO is a second-generation family owned business with a strong client base throughout the Northeastern United States. AJO's team of Executive Coaches and Senior Career Coaches offer expanded national and international coverage in twenty-eight states and seventeen countries. AJO delivers uncompromising personalized, customized services as a trusted HR consulting partner to many world-class organizations in the region.