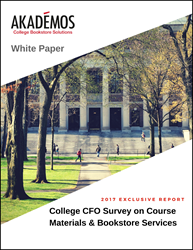 Survey results show that 93% of respondents think textbook prices have an impact on student retention, persistence and completion - John Squires, Akademos Chief Executive Officer
Norwalk, CT (PRWEB) April 25, 2017
Today, Akademos Inc. announced the release of an exclusive new White Paper that highlights the results of their proprietary 2017 College CFO Survey on Course Materials and Bookstore Services. This comprehensive report provides critical insight on today's top college and university bookstore trends and includes findings on bookstore sales, textbook affordability, student preparedness, and emerging trends in digital course materials, eLearning models and general merchandise sales.
This is the third study surveying CFOs and business administrators in higher institutions across the nation. The previous surveys were conducted in 2013 and 2015.
Critical topics addressed in this complimentary White Paper include:

The evolving role of the school-sanctioned bookstore
Trends in textbook and course material sales
Why students are leaving the school-sanctioned bookstore
The impact of course material costs on student success, persistence and retention
How bookstores need to adapt to meet the demands for new eLearning materials and models
The need for an improved adoption process
General merchandise sales trends
Campus space optimization and the physical footprint of the campus bookstore in the future
"Survey results show that 93% of respondents think textbook prices have an impact on student retention, persistence and completion, as a growing number of students not only have abandoned the school-sanctioned bookstore, but are foregoing purchasing required course materials altogether due to escalating prices," said John Squires, Akademos Chief Executive Officer. "It's important for business and academic leadership to continually adapt and prepare for emerging trends in course materials and bookstore services to ensure they are meeting the needs of their students, faculty and entire campus community."
The exclusive 2017 College CFO White Paper provides an instructive look at critical issues higher education institutions face and offers potential solutions for the future that can help your institution lower course material costs and win back your students to the campus bookstore.
The full report summarizes responses to all questions asked in the 2017 CFO Survey, provides analysis of the results, and compares trends from the 2013 and 2015 surveys. For a copy of the 2017 College CFO Survey on Course Materials and Bookstore Services White Paper, go to http://info.akademos.com/cfo-survey-white-paper-2017. This White Paper is available at no charge.
For press inquiries, please contact Ariane Rasmussen at 203-866-0190, ext. 15.
About Akademos
Akademos offers customized, online bookstore services and solutions that support what's most important to institutions — from full-service virtual bookstores to unique partnerships and products supporting on-campus shops. Akademos delivers cost savings on course materials for students while providing administrators and faculty with critical control over the textbook delivery process.
Akademos offers an innovative textbook marketplace, best-in-class eCommerce platform, eLearning solutions, and a unique adoption and analytics portal. The company's comprehensive supply-chain solution and commitment to responsive personal service makes it the choice of leading institutions throughout the country.
Akademos helps institutions deliver the right course materials, at affordable prices, on time. Learn more at akademos.com.