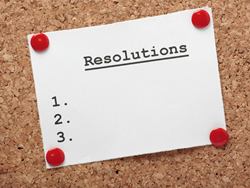 Since most of us have our phones with us almost all of the time, why not use its calendar to keep us on track in making a new habit that will help us reach our goals?
Newton, Mass. (PRWEB) December 29, 2014
December 29, 2014 – As the wonderful Hanukkah and Christmas celebrations come to an end, people start looking ahead to the New Year. They think about their plans to ring in the New Year and then make a resolution.
According to the U.S. government's official web portal , four of the top 10 resolutions include:

Lose weight.
Volunteer to help others.
Reduce, reuse and recycle.
Manage stress.
According to British psychologist Richard Wiseman, 88 percent of all New Year's resolutions end in failure. There's one thing that can help people keep these resolutions: a smartphone. Akruto, Inc., developers of AkrutoSync™, Windows® PC software that syncs Outlook Calendars, Contacts, Tasks, and Notes across unlimited mobile devices, shares tips to help people accomplish their New Year's resolutions.
"Since most of us have our phones with us almost all of the time, why not use its calendar to keep us on track in making a new habit that will help us reach our goals?" says George Tatar, founder and CEO of Akruto, Inc. "For example, if you want to lose weight, schedule five minutes after work three days a week to take a walk. Start small and increase the time and frequency as you accomplish each step."
People who want to shed weight can schedule a recurring appointment for fitness and yoga in their phone's calendar. To make sure they never forget, they can use the calendar's reminder feature that alerts people with a sound or vibration.
Those who want to volunteer and do more charity work can block out time in their calendar on a weekly, bi-monthly or monthly basis. If they need ideas for volunteering, they can visit VolunteerMatch.org for a variety of organizations and opportunities that can be done nearby, online or at home.
Using a phone's calendar also helps reduce, reuse and recycle as there's no using paper to keep track of appointments or tasks. Many people have trouble remembering when recycling is picked up. Or the day simply slips by. Prevent that by entering recycling days in the calendar with a reminder. The phone will send an alert when it's time to put out the recycling.
Can a phone's calendar help manage stress? Yes, it allows people to plan ahead as well as set aside time for meditation. Synching information between a smartphone and computer also saves a lot of stress because it allows people to have their information with them at all times. They won't have to worry about making sure the information is updated in both places. That can be done by investing in software like AkrutoSync™ to sync Outlook calendar with iPhone, Android, Windows Phone, iOS devices or any combination.
This Windows® PC software can help people keep their resolutions. Enter relaxation, exercise and recycling appointments on a device or Outlook PC. Akruto will automatically, reliably and privately make sure Outlook PC and all connected devices stay in sync.
Akruto syncs Outlook data with the phone's built-in Calendar app. Users don't have to do anything after following the software's step-by-step instructions to install it. Once installed, all appointments and events show up across all connected devices.
To sync Outlook Calendar with Android, iPhone or Windows Phone, users can download a full seven-day trial of AkrutoSync from http://www.akruto.com/get-akruto-sync/. Tech support is 24/7 for customers and trial users. The licensed version, available for $29.95, supports a single PC and unlimited use with iPhone, Android devices, Windows Phone and other iOS devices.
About Akruto, Inc.
Akruto develops software for individuals and small businesses that want to synchronize Microsoft Outlook with smartphones and other mobile devices. Its engineers have extensive experience in data management and share a strong commitment to protecting data privacy. The company's solutions offer a reliable way to sync smartphones with Outlook contacts, calendar, notes and tasks without using the cloud, delivering a higher level of privacy. The company's flagship product, AkrutoSync, includes support for Android, iOS and Windows phone platforms. Founded in 2010 and headquartered in Newton, Mass., the company maintains a website at http://www.akruto.com. Media inquiries should be directed to media(at)akruto(dot)com.
Contacts
George Tatar, 617-299-0094
george.tatar@akruto.com
Meryl K. Evans
meryl(at)akruto(dot)com
###