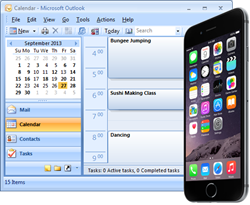 Using iTunes or iCloud to sync Outlook doesn't work well. For example, Microsoft Outlook 2013 simply will not sync with iCloud.
Newton, Mass (PRWEB) October 28, 2014
Akruto, Inc., developers of AkrutoSync™, Windows® PC software that syncs Outlook Calendars, Contacts, Tasks, and Notes across unlimited mobile devices, today announces official support for iOS devices, including all iPhone, iPad and iPod Touch devices.
Users now can directly and effortlessly sync iPhone with Outlook because AkrutoSync syncs data from Outlook's contacts, calendar, tasks and notes directly with the iOS's own calendar, contact, reminder and notes apps. This lets users continue to use the phone's apps like they always have, without having to learn a new app. Furthermore, this integration works with all of the iPhone's features, such as sharing a contact or accessing a contact when dialing.
"Using iTunes or iCloud to sync Outlook doesn't work well. For example, Microsoft Outlook 2013 simply will not sync with iCloud," says George Tatar, founder and CEO of Akruto, Inc. "Add to that the 5 million Gmail passwords leaked and the iCloud hack, more owners of iOS devices want a way to automatically sync their private information without going through the cloud."
With AkrutoSync, rather than using iTunes or iCloud, devices connect directly to the user's computer over an SSL-encrypted Wi-Fi or Internet connection. The customer's data isn't shared with cloud services or Akruto. As long as the computer is connected to the network, this setup automatically and continuously syncs contacts, calendar, reminders and notes automatic while — at the same time — providing privacy. Users can also synchronize Outlook with all their other compatible devices including Android devices and Windows Phone.
"Our customers who have been using AkrutoSync with their Android and Windows Phone devices had been asking to sync Outlook calendar with iPhone because they valued the privacy, simplicity and accuracy they've come to expect from Akruto," says Tatar. "Although earlier versions of AkrutoSync worked with the iOS, they weren't documented. This new version includes 24/7 support and documentation."
People who need an automatic, seamless, private and complete way to sync personal information from Outlook with unlimited iOS, Android and Windows Phone devices can try a full version of AkrutoSync for Windows PC free for seven days. The trial version is available for download at http://www.akruto.com/get-akruto-sync/.
To purchase a license, customers pay a one-time fee of $29.95 to receive the registration code. After receiving the code, customers enter the code into the software. One license allows users to install AkrutoSync on a Windows PC and use it to sync iPhone with Outlook with unlimited compatible tablets, handsets and smartphones.
About Akruto, Inc.
Akruto develops software for individuals and small businesses that want to synchronize Microsoft Outlook with smartphones and other mobile devices. Its engineers have extensive experience in data management and share a strong commitment to protecting data privacy. The company's solutions offer a reliable way to sync smartphones with Outlook contacts, calendar, notes and tasks without using the cloud, delivering a higher level of privacy. The company's flagship product, AkrutoSync, includes support for Android, iOS and Windows phone platforms. Founded in 2010 and headquartered in Newton, Mass., the company maintains a website at http://www.akruto.com. Media inquiries should be directed to [email protected]
Contacts
George Tatar, 617-299-0094
george(dot)tatar(at)akruto(dot)com
Meryl K. Evans
meryl(at)akruto(dot)com