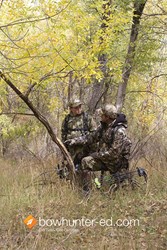 Birmingham, AL (PRWEB) October 25, 2013
A new online bowhunter education course is designed to help Alabama bowhunters improve their skills and stay safe in the woods. Bowhunter Ed, which is an official course of the National Bowhunter Education Foundation, teaches safe in-the-field practices, bow shooting basics, different methods of bowhunting, and shot placement and recovery techniques. By completing this Bowhunter Ed course, students satisfy bowhunter certification for the state of Alabama, with no field day required.
"Bowhunting seasons in Alabama and many other states are already open," said Marilyn Bentz, executive director of the National Bowhunter Education Foundation. "If Alabama residents are planning to hunt big game in certain areas or on special hunts where certification is required, you would be wise to take this course or a traditional course now."
The Bowhunter Ed course is mobile friendly so students can take the course on a smartphone, tablet, laptop or other device. Bowhunter Ed features easy-to-understand information, instructional videos, plus detailed illustrations and animations to help students be successful, better prepared bowhunters. To take the Alabama-approved bowhunter education course, visit http://www.bowhunter-ed.com/alabama/.
The updated Alabama online bowhunter education course allows students to study for free, paying only when they pass the course. While bowhunter education isn't mandatory in Alabama, it may be required if hunters wish to go bowhunting in states or provinces where certification is mandatory:

Alaska
Connecticut
Idaho
Maine
Montana
Nebraska
New Brunswick
New Hampshire
New Jersey
New York
Nova Scotia
Quebec
Rhode Island
South Dakota
Vermont
About the National Bowhunter Education Foundation
The NBEF and its network of 5,000 volunteer instructors work hard to ensure the future of bowhunting. Each year thousands of committed volunteers donate their time and financial means to bowhunter education throughout the world. The core curriculum of the program remains standardized throughout all 50 states and numerous foreign countries.
For more information regarding the NBEF or becoming an instructor, please contact the National Bowhunter Education Foundation at info(at)nbef(dot)org or visit http://www.nbef.org/. To take an online bowhunter education course, visit http://www.bowhunter-ed.com/.
About Kalkomey
Kalkomey, which produces Bowhunter Ed, is the official provider of recreational safety education materials for all 50 states. Our print and Internet courses have been providing official safety certification since 1995. We provide safety courses in boating, hunting, bowhunting, and operating off-road vehicles and snowmobiles. For more information, visit http://www.kalkomey.com/.