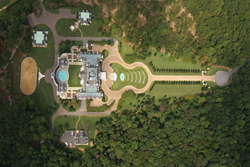 Pompano Beach, Florida (PRWEB) October 15, 2015
Alabama's largest mansion comes with a history almost as dramatic as the home itself. It is just 5,000 square feet smaller than the White House, the front yard is whimsically shaped like a guitar, and the owner went from riches to rags in just a few years. The Alabama Guitar Mansion story is featured this week at TopTenRealEstateDeals.com.
"Alabama Guitar Mansion"
When Larry House began to build the biggest mansion in Alabama in the mid 1990s, he was riding the crest of his business success wave. When House and best-friend Richard Scrushy were respiratory therapists at an Alabama hospital in their early careers, they never imagined that Scrushy would end up in prison on multiple counts of fraud at his company, HealthSouth, or that by riding on Scrushy's coat tails to riches, first at HealthSouth and then as CEO of Scrushy's MedPartners, that both men would make and lose a fortune in just a few short years.
House became a multimillionaire in the early 1990s when he took MedPartners from a startup physician management company with a $1 million investment to a Fortune 500 company. He soon began construction of his 34,000-square-foot Birmingham home with 22 bathrooms and giant guitar-shaped front yard. But a $7 billion buyout of MedPartners that would have made House over $80 million fell apart when the company's questionable business practices were discovered. In 1997, House went through an expensive divorce, and MedPartners lost $821 million. He lost almost everything else in 1998 when MedPartners stock fell 45 percent in one day.
House tried to sell the guitar home to help cover his debts but Alabama mega mansions have a limited buyers' pool. With no takers, it was put up for auction in 2003 bringing only $3.95 million, not meeting the reserve against the more than $30 million invested in it. Now for the second time, it will go on the auction block on Halloween - this time selling absolute with no reserve.
Located just outside of Birmingham in the gated Shoal Creek golf community on 27 acres and 15 bedrooms, the home is just 5,000 square feet smaller than the White House. The entry drive is whimsically shaped like a guitar and the house is classically designed. It took five people 1.5 years just to apply the gold leaf throughout the house. Highlights include his-and-her master wings, a 25-seat theater with 170-inch screen and ticket booth, large wine cellar, office space on the lower level and well-fitted equestrian center, large stable, paddocks, pastures and elegant estate manager's home. The Shoal Creek Country Club offers a Jack Nicklaus-designed golf course and lakes for canoeing and fishing.
Alabama's largest estate is selling absolute with no reserve on October 31st. The auction agency is DeCaro Luxury Auctions in Naples, Florida.
Visit TopTenRealEstateDeals.com for more celebrity, historic and spectacular homes.