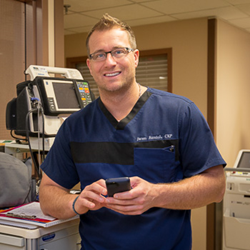 House supervisors like it when they're trying to fill in a shift. I like being able to send out an e-mail and/or a text message at the same time, and hit everybody without having to write 20 different emails. -- Cindy Frank, Director of Nursing Services, Madison Co. Memorial Hosp., Winterset, IA
ST. PAUL, Minn. (PRWEB) January 25, 2019
Aladtec, a Wisconsin-based provider of cloud-based scheduling and workforce management software, will be among about 200 exhibitors showcasing products and services to healthcare professionals attending the LeadingAge Minnesota Institute, Feb. 6-8.
The event is sponsored by LeadingAge Minnesota, the Midwest chapter of a non-profit Washington D.C. based advocacy group whose mission is to be "the trusted voice for aging." The conference is organized to provide continuing education, events, and networking opportunities for providers offering services for older adults.
Nationwide, LeadingAge has 6,000-plus members and partners that include not-for-profit organizations representing the broad field of aging services.
Aladtec is a web-based software platform that provides flexible staffing tools for hospitals, clinics, group homes, and long-term care facilities. Users create and share complex schedules for multiple departments and allow staff the ability to initiate trades, swaps, request PTO and receive shift-reminders -- all from a smartphone, tablet, or desktop computer.
Aladtec also hosts tools that allow supervisors to monitor expiration dates for employee certifications, licenses, and immunizations. Its e-forms capability enables conversion of complex paper forms to e-versions that streamline reporting and record-keeping. The program empowers leadership to fill vacant shifts quickly via text- and e-mail notifications. Managers can monitor hours worked and OT in real time. Time-stamping assures accountability.
Aladtec's reporting function also streamlines Payroll-Based Journal reporting. Our Scheduled Time Report can be customized to regularly generate the staffing and census information required by Centers for Medicaid & Medicare Services.
Users have also told us Aladtec is an employee retention tool as staff members appreciate the transparency it provides. They also like the convenience of receiving shift reminders, instantly learning about open shifts, and their ability to request shift-changes or time-off via smartphone.
Aladtec for Healthcare does all of this and more.
Madison County Memorial Hospital, Winterset (IA) has used Aladtec since 2009 to schedule 179 staff members at their 25-bed Critical Access Hospital.
Cindy Frank, Director of Nursing Services, schedules all nurses for the med-surg floor and ED, as well as CNAs. Other managers build schedules for QI, ED, Admissions, Lab, Radiology, Hospice, IT, Maintenance, Patient Accounts, and others. MCMC relies on Aladtec to track employee certifications, licenses, and "every-four-year physical, TB tests, flu shots ...we use it for all of that," said Frank.
"House supervisors like it when they're trying to fill in a shift. I use it for sending reminders for meetings. I like being able to send out an e-mail and/or a text message at the same time, and hit everybody without having to write 20 different emails," Frank said. "I'm pleased with it. It's pretty user-friendly."
View this short video that describes how Serving Hands in Hudson, Wis. eliminated scheduling issues by implementing Aladtec for their healthcare staffing needs.
The three-day conference includes a variety of workshops and seminars aimed at educating and enriching caregiving leaders and providers from across the region.
Neen James, a leadership consultant and author, will offer the keynote address on Wednesday morning. Her talk -- 'What if we focused on what matters every day?' -- will discuss what makes attention so valuable and why paying attention in very specific ways drives engagement, productivity, and accountability. She'll teach a simple framework to help leaders align teams to focus and execute quickly.
A highlight of Thursday's sessions is a luncheon address by Judson Laipply, a speaker and comedian, who will focus on how organizations can stop managing change and start leading evolution.
Attending LeadingAge Minnesota Institute from Aladtec are Evan Tienken and Support Specialist Floyd Linaberry -- representatives who specialize in working with hospitals, care facilities, group homes, and other agencies.
The Exhibit Hall is open from 10 am to 3 pm, Wednesday, and 9 am to 1 pm, Thursday. Aladtec representatives will offer participants guided software system demonstrations. Interested agencies can also sign up for a no-cost 14-day customized demo by visiting http://www.aladtec.com.
To experience a free trial now, click here, or call Evan Tienken at 888-749-5550 and he can arrange a trial customized for any facility's unique staffing needs.