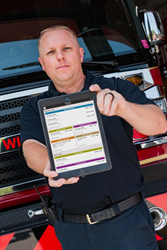 "Aladtec allows us to configure our crew schedule exactly to what we need. I save countless hours on shift trades, giveaways, and OT coverage," -- Asst. Fire Chief Patrick Myers, Lawrenceburg (IN) Fire Dept.
INDIANAPOLIS (PRWEB) April 03, 2019
Aladtec, the premier provider of scheduling and workforce management software to fire and rescue services across America and Canada, will be among several thousand exhibitors at the five-day Fire Department Instructors Conference that opens Monday, April 8 at the Indiana Convention Center.
Organizers say the 92nd annual FDIC International will draw 34,000 fire and rescue professionals from 65 countries. The event offers participants the chance to learn through lectures, and classroom- and workshop experiences.
More than 2,200 Public Safety agencies across America and Canada use Aladtec's cloud-based software tools, including 875 fire departments.
Aladtec is easy to use with no equipment to buy or maintain, and no software to install. The system can be used anytime by any staff member with internet access. Volunteer and paid-on-call organizations benefit from online member availability submission, rules-based sign-ups, and automated trading features.
Aladtec helps control payroll costs, and reduce unscheduled overtime with built-in work limits. Administrators can approve shift trades and time-off requests from a smartphone. The platform also includes form-building tools, an event calendar, massive storage for records and policies, certification tracking, a discussion forum, and more functions that collectively make scheduling and workforce management easy.
Aladtec's annual subscription fee is based on the number of agency members who use the platform. All set-up, training and unlimited technical support are included in the price.
"Aladtec allows us to configure our crew schedule exactly to what we need. I save countless hours on shift trades, giveaways, and OT coverage," said Patrick Myers, Assistant Fire Chief, Lawrenceburg (IN) Fire Dept.
"Part-time members can put in their availability, and then the system allows us to select the people who are available quickly. It also allows us to see how many hours they have already worked in a certain time period to help us avoid unnecessary overtime," said Harrisburg (NC) Fire Chief Tim Wooten. "I estimate we save about 10 hours per week in scheduling time now."
By controlling overtime, Harrisburg saved more money than the annual subscription fee invested in the Aladtec software, and scheduling errors fell dramatically. They also harnessed Aladtec's forms feature to complete daily truck checks and requisition supplies, using a smartphone or tablet. Previously, forms could only be accessed using a department desktop computer.
Chief Gene Wright with Town of Beloit (WI) Fire Dept., has been an Aladtec user and fan since 2013.
"We're very diverse here with full-time people and paid-on-call, so we have people that come and go all hours of the night. We have a big projector on the wall that has the calendar up so when you walk in the door, and you see exactly who's coming. It's been a great product for us."
Aladtec Account Executives Joe Ellis and Ericka Hawkins will be joined at the show by Systems Specialist Eric Hahn and Product Manager Jaimie Hammond. The team will be at Booth #2645 to demonstrate Aladtec's capabilities and answer any questions from existing- or prospective customers. The Exhibit Hall will be open from 11 am to 5 pm, Thursday, April 11; 9 am to 5 pm, Friday, April 12; and 8 am to 2 pm, Saturday, April 13.
To activate a free trial today, visit http://www.aladtec.com, or call #888-749-5550 and a representative can arrange a customized demo, unique to your department's schedules and roster.
###
CONTACT INFORMATION:
Aladtec, Inc.
387 Arrow Court
River Falls, WI 54022
(888) 749-5550 Toll-Free
(715) 690-2300 Phone
(801) 406-5550 Fax
steve@aladtec.com