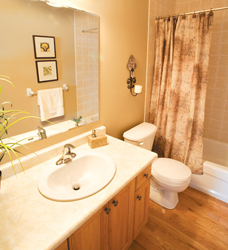 Our systems are good old fashion bathtub and wall replacements and will last the test of time with no future problems, just like your old one did
Middlebury, CT (PRWEB) April 10, 2015
Alan Dinsmoor Contracting Services, a fully licensed and insured Connecticut-based company that prides itself on quality work, has just launched some new and budget-friendly bathroom specials.
As an article on the company's website notes, http://alandcs.com/our-services/bathroom-remodeling-ct/, the $5,500 Bathroom Special includes removing the old bathtub and wall area and replacing it with all brand new equipment. Unlike some other businesses that promise "one day bath replacements" that simply glue on low quality bathtub "liners," Alan's bathroom remodeling CT based company does complete bathtub and wall replacements that are of much higher quality and will last for much longer. The special includes a new replacement bathtub with a new valve assembly, a trim color kit in the customer's choice of chrome, brass or brushed nickel, a new drain kit, and a choice of a fiberglass surround or tile backer walls that are ready to be tiled. The $5,500 special also features subway style tile installation with two ceramic soap dishes, two ceramic corner shelves and a free paint job.
For people who are looking for upgrades to the $5,500 Remodel, CT based Alan Dinsmoor Contracting Services has also just launched a $7,500 and $9,500 Bathroom Special. The $7,500 special also includes the removal of the old vanity and latrine as well as Wolverine Brass bathtub or shower valve upgrades. Alan Dinsmoor Contracting Services will also repaint the bathroom for free. The $9,500 Special is a full Bathroom Remodel for those who require a complete renovation but still need it done at a great price.
Because company founder Alan Dinsmoor wants to make his bathroom renovation as stress-free as possible for his customers, his company is now offering special financing including 0 percent APR for up to 18 months for loans up to $100,000. As it notes on the newly-launched company website, http://alandcs.com/our-services/bathroom-remodeling-ct/, all types of credit is accepted and they are happy to work with people despite what their credit score may be.
No matter which bathroom special customers select, they can rest assured that they will get top-quality products that are installed in a very timely manner.
"Our systems are good old fashion bathtub and wall replacements and will last the test of time with no future problems, just like your old one did," a company spokesperson said, adding that they also supply and install a variety of vanities, latrines, and shower doors assemblies.
About Alan Dinsmoor Contracting Services:
In business since 1982, Alan Dinsmoor Contracting Services provides general contractor services, as well as bathroom and kitchen remodeling, basement finishing, roofing, window replacement and more. Owner Alan Dinsmoor, a master carpenter with more than 30 years of experience, personally leads every project onsite, to ensure that every job is performed to the highest degree of satisfaction. For more information, please visit http://alandcs.com.