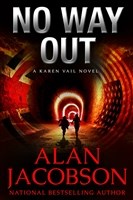 The Strand Magazine: "Jacobson has written the thriller of the year."
Portland, OR (PRWEB) October 18, 2013
Norwood Press is pleased to announce the hardcover and limited edition releases of No Way Out, the 5th in the Karen Vail series by bestselling author Alan Jacobson (Inmate 1577).
With his trademark spirited dialogue, page-turning scenes, and well-drawn characters, author Alan Jacobson has once again crafted an intelligent, twisting thriller.
"For the collector - signed and limited editions are available - this is simply a beautiful book," said Norwood Press (an imprint of VJ Books) owner John Hutchinson, "and takes the Karen Vail series to a new level. For the reader it's gripping, fast-paced and quite the ride - a great Fall read."
When a powerful firebomb destroys part of an art gallery in an exclusive London district, FBI Profiler Karen Vail is dispatched to England to work with Scotland Yard. But Vail soon discovers that at the heart of the bombing lies a 440-year-old manuscript that holds clues to England's past—with content is so explosive that a group of political radicals is bent on destroying it at all costs.
The trail leads Vail to a notorious fugitive who appears to be planning a major attack on London and the United States. Soon she finds herself on the run from the British security service, Scotland Yard and a group of internationally trained assassins—all determined to silence her…all tightening the net to ensure that she's got no way out.
About Alan Jacobson / Reviews:
"Jacobson has written the thriller of the year—fast plot, incredible character development, and chilling atmosphere. No Way Out has everything you can ask for in a thriller, plus the bonus of reading a book which you'll re-read and which will never turn up in a second hand bookstore."
—The Strand Magazine
"If you are even a teeny tiny, itty bitty bit paranoid, No Way Out will confirm all your worst fears. With the recent news that our government has been collecting more information on its citizens via phone records, emails, and social networking, one might be tempted to tone down one's electronic musings. This forfeiture of privacy has been lamented by some and shrugged off by others. But who is watching the watchers? Here is a tale of how governments, who are supposed to be hyper security conscious, can be hacked. Because these systems are viewed as failsafe, good people are allowed to do very bad things…. Alan Jacobson knows how to write suspense. Things go bad, and then get worse, and when it seems like they can't get any worse, they do. Karen has claustrophobia and finds herself in small, dark, tight spaces a lot in this novel—adding to the reader's need to rip through the pages to find out what happens next. The prose zips the plot along. And the plot is itself compelling… what fun to read! Don't say you weren't warned."
—New York Journal of Books
"The complexity of the plot mixed with the well-researched setting and Vail's signature style, make for a fast-paced, thrilling read where Jacobson offers you the best ticket in town. No Way Out is explosive!"
—Suspense Magazine
Alan can be reached through: His website
Facebook: authoralanjacobson
Twitter: JacobsonAlan
About VJ Books:
VJ Books started in 1998, and soon learned that their customer was foremost a collector. Customers sought collector grade first edition books, preferably signed by the author.
In an effort to respond to this demand, VJ Books has relationships with publishers, authors and their agents to provide a continuous supply of new titles for our customers. Each month our customers are able to choose from dozens of author signed books from some of the most exciting, highly acclaimed writers in the areas of mystery, suspense, science fiction and modern literature. Additionally, we continue to offer an impressive selection of back list, rare, out-of-print, and special edition titles for your consideration. And through our publishing company, Norwood Press, we offer specialty publications for such authors as Clive Cussler, Alan Jacobson and Blake Crouch.
Contact:
Virginia Lenneville
marketing(at)vjbooks(dot)com
Facebook: vjbooks
Twitter: vjbooks