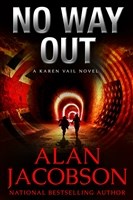 Karen Vail is my kind of hero. - Michael Connelly
Portland, OR (PRWEB) January 05, 2014
Alan Jacobson is the National Bestselling Author of several critically acclaimed thrillers such as Inmate 1577 and Hard Target. His newest title, No Way Out, has been named to the "Best of 2013" lists of both Suspense Magazine and The Strand Magazine.
Alan's two decades of research and training with the FBI's profiling unit, the Drug Enforcement Administration, the US Marshals Service, Scotland Yard, SWAT, and branches of the US military have helped shape the stories he tells and the characters that populate his novels. The San Francisco Chronicle stated that "Alan Jacobson researches his books like a good newspaper reporter, and then pushes the envelope into reality more thoroughly than the typical crime novel could ever allow."
Alan's novels have made numerous "Top 10 Best Books of the Year" lists and five have been optioned by Hollywood. His main series character, FBI Profiler Karen Vail, was culled from several years of work with the FBI's Behavioral Analysis Unit and tracks unintentionally closely to the real female FBI profiler, with whom Alan has worked for the past fifteen years. Karen Vail has been described as "My kind of hero" by Michael Connelly and as "tough, smart, funny, and very believable" by Nelson DeMille."
"We couldn't be happier for Alan. His work is suspenseful, tense, with a stimulating Shakespearean twist. No Way Out is the best Karen Vail yet!" said Norwood Press publisher John Hutchinson. (VJ Books)
About No Way Out
When a powerful firebomb destroys part of an art gallery in an exclusive London district, FBI Profiler Karen Vail is dispatched to England to work with Scotland Yard. But Vail soon discovers that at the heart of the bombing lies a 440-year-old manuscript that holds clues to England's past—with content so explosive that a group of political radicals is bent on destroying it at all costs.
The trail leads Vail to a notorious fugitive who appears to be planning a major attack on London and the United States. Soon she finds herself on the run from the British security service, Scotland Yard and a group of internationally trained assassins—all determined to silence her…all tightening the net to ensure that she's got no way out.
No Way Out Reviews:
"Jacobson has written the thriller of the year—fast plot, incredible character development, and chilling atmosphere. No Way Out has everything you can ask for in a thriller, plus the bonus of reading a book which you'll re-read and which will never turn up in a second hand bookstore."
—The Strand Magazine
"The prose zips the plot along. And the plot is itself compelling… what fun to read! Don't say you weren't warned."
—New York Journal of Books
"The complexity of the plot mixed with the well-researched setting and Vail's signature style, make for a fast-paced, thrilling read where Jacobson offers you the best ticket in town. No Way Out is explosive!"
—Suspense Magazine
Alan can be reached through:
His website: alanjacobson(dot)com
Facebook: Facebook(dot)com/AlanJacobsonFans
Twitter: JacobsonAlan
About VJ Books and Norwood Press:
VJ Books has specialized in signed and collectible modern fiction for nearly 20 years. Each month VJ Books' customers are able to choose from dozens of autographed books from some of the most exciting, highly acclaimed authors in the areas of mystery, suspense, science fiction and modern literature. Additionally, they continue to offer an impressive selection of back list, rare, out-of-print, and special edition titles.
Contact:
Virginia Lenneville
marketing(at)vjbooks(dot)com
Facebook: vjbooks
Twitter: vjbooks