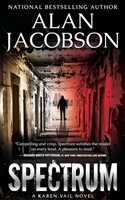 He really hit this out of the park - fans of Karen Vail will be very pleased!
Portland, OR (PRWEB) April 23, 2014
John Hutchinson, Norwood Press Executive Publisher, announced that they have secured the hardcover rights to Alan Jacobson's latest Karen Vail thriller, SPECTRUM.
Norwood Press previously published three other Jacobson titles, INMATE 1577, HARD TARGET, and NO WAY OUT.
"Both Virginia and I recently read an advance copy of SPECTRUM. The story is absolutely riveting as we join Vail, fresh from the police academy, and follow her as she becomes the FBI Profiler that we have come to love and respect," says Hutchinson. He continues, "This is our fourth book with Alan, and his sixth in the Vail series. He really hit this one out of the park – fans of Karen Vail will be very pleased! We get to follow her through her career from her start as a NYC beat cop all the way to the present, as she is haunted by a crime scene she witnessed her first day on the force."
Last year Norwood Press successfully used the crowd funding platform Kickstarter to launch NO WAY OUT, and they are considering a similar process for SPECTRUM.
NO WAY OUT was named to The Suspense Magazine and The Strand Magazine's "Best of 2013" Lists.
Praise for Alan Jacobson and NO WAY OUT and SPECTRUM:
"Jacobson has written the thriller of the year—fast plot, incredible character development, and chilling atmosphere. No Way Out has everything you can ask for in a thriller, plus the bonus of reading a book which you'll re-read and which will never turn up in a second hand bookstore."
—The Strand Magazine
"The complexity of the plot mixed with the well-researched setting and Vail's signature style, make for a fast-paced, thrilling read where Jacobson offers you the best ticket in town. No Way Out is explosive!"
—The Suspense Magazine
"Compelling and crisp, Spectrum satisfies the reader on every level. A pleasure to read."
—Richard North Patterson, #1 New York Times Bestselling Author
"During my 40 years with the NYPD, I knew the streets of New York and the challenges a detective faces solving crimes in the big city. Alan Jacobson's Spectrum put me back on the street by bringing a gritty realism and noirish perspective only a fellow New Yorker can provide. Spectrum's authenticity enhances a riveting, well-told story."
—Captain Edward Mamet, Commander of Detectives, NYPD (Ret.)
Alan can be reached through: alanjacobson.com
Facebook: /alanjacobsonfans
Twitter: @JacobsonAlan
About VJ Books and Norwood Press:
VJ Books started in 1998, and soon learned that their customer was foremost a collector. Customers sought collector grade first edition books, preferably signed by the author.
In an effort to respond to this demand, VJ Books has relationships with publishers, authors and their agents to provide a continuous supply of new titles for our customers. Each month our customers are able to choose from dozens of author signed books from some of the most exciting, highly acclaimed writers in the areas of mystery, suspense, science fiction and modern literature. Additionally, we continue to offer an impressive selection of back list, rare, out-of-print, and special edition titles for your consideration. And through our publishing company, Norwood Press, we offer specialty publications for such authors as Clive Cussler, Justin Scott, Grant Blackwood and Blake Crouch.
Norwood Press is a leading online retailer of collectible modern fiction, producing specialty bound limited editions of bestselling titles, and exclusive hardcover releases of titles only available in eBook or POD formats. These books are distributed through independent booksellers and directly to collectors worldwide.
Working directly with Norwood Press, authors can deliver new titles not available in traditional print editions to collectors and readers who prefer the printed page over eBooks.
Additionally, Norwood Press will produce out-of-print titles or specialty bindings of titles available in other formats. Norwood Press will facilitate all phases of book design and production, marketing and publicity, sales, warehousing, distribution and fulfillment.
Contact:
Virginia Lenneville
marketing(at)vjbooks(dot)com
Facebook: vjbooks
Twitter: vjbooks