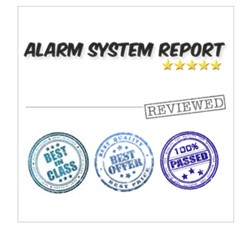 The newest and most up to date alarm system company reviews for 2014 have been released for free at AlarmSystemReport.com.
San Diego, California (PRWEB) January 10, 2014
In its Home Alarm System Company Reviews for 2014, AlarmSystemReport.com has handpicked FrontPoint Security, LifeShield Home Security, Protect America, ADT Security, and Vivint Home Security as the leading and most-trusted alarm system companies in the market today.
These chosen companies were assessed thoroughly with inputs from third party users and experts. Different from the usual advertisements and company profiles found online, AlarmSystemReport.com's reviews include both the pros and cons of each company to keep the readers informed of what they are really getting,
AlarmSystemReport.com's thorough assessment revealed that FrontPoint Security is "hands down the best alarm company" in the industry. Offering the latest in GE Wireless home security and Z-Wave home automation products, this alarm system company provides equipment and services at one of the best values in the alarm system industry. The review also noted that FrontPoint's monthly monitoring rates are exceptionally economical and are most of the time cheaper than other companies that offer similar options.
Bagging the silver medal winner in AlarmSystemReport.com's best alarm rankings is Protect America. The review site noted that it is another great choice for homeowners' alarm system needs. Just like FrontPoint, Protect America also offers GE Wireless Alarm Systems. It provides flexible options for monthly alarm monitoring. In fact, it advertises many alarm packages for free with affordable monitoring rates, according to the review site.
Climbing the rankings as one of the best alarm system companies, AlarmSystemReport.com hailed LifeShield Security's exceptionally low up-front cost and roughly matchless monthly monitoring prices and features. On top of its affordability, LifeShield's wide range of equipment and excellent customer service secured its slot as one of the top home alarm system companies.
AlarmSystemReport.com has also included ADT Security in its list of top alarm system companies, citing the company's 100 years of operations in the alarm system industry. The review site noted ADT's great customer service ratings with a very small percentage of complaints compared to their large customer base. It also gave prominence to its top of the line alarm systems and quality monitoring services.
Securing the last spot in AlarmSystemReport.com's 2014 Home Alarm System Company Reviews is Vivint Security. The review highlighted Vivint's wide array of equipment offered at great values. Its wide offering includes products for home security, home automation, energy management, and surveillance. As one of the few companies that offer complete home automation, it also offers high quality thermostats and door locks.
Complete review of the above mentioned home alert system companies could be read at AlarmSystemReport.com to help consumers make the best purchasing decision possible.
Packed with accurate and comprehensive details about affordability, customer service, ease of installation, equipment quality, customer support, and warranty of all featured companies, AlarmSystemReport.com's home alarm system company reviews are a must-read for alarm system consumers.
About AlarmSystemReport.com
AlarmSystemReport.com is the leading go-to website when it comes to comprehensive reviews on the different alarm systems and the leading companies that offer them. Priding itself with timely and accurate information, this review site assures readers that all reviews are done with qualified alarm system experts.