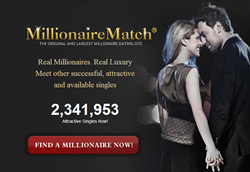 Los Angeles, California (PRWEB) May 24, 2015
Alaska, a mecca for wealthy adventurers seeking getaways away from the crowds and business of civilization, has recently become another state within the U.S. to legalize pot. While the issue of legalizing marijuana remains a hot-button topic for many North Americans, the community at the famous millionaire matchmaker MillionaireMatch.com has been engaging in a conversation of their own. While some millionaires view the measure as another great way to get even more enjoyment out of their next trip to Alaska, others take a little more "old-fashioned" approach and disapprove.
Regardless of the individual member's position on the issue, the conversation currently taking place on MillionaireMatch.com's community forum is another example of how vibrant and active the popular match-making service's community is. Its forums are always bubbling with interesting conversation as the world's wealthiest mingle on a wide variety of issues, ranging from the lighthearted casual, to the downright dirty.
"We've always enjoyed an astounding level of interactivity among our membership," Brian, marketing manager at MillionaireMatch says of the more than 2.3 million members currently active on the site. "Because of our membership's unique socio-economic statuses, the dynamics of the conversations taking place on our forums are extremely interesting, welcoming, and really just a fun place for members to hang out and get to know each other."
Following the state of Colorado, Marijuana became legal in Alaska in February, although voters passed the ballot measure in November 2014. As in other states, there are of course limits to how pot is consumed: people cannot carry more than one ounce on their person, nor can they harvest more than four ounces in their home. Consuming pot in public and while driving also remain illegal.
Although marijuana was legalized in Alaska about three months ago, members on MillionaireMatch are still talking about it today, with great enthusiasm. This blog post has just become MillionaireMatch's "Post of the Month".
Since launching in 2001, MillionaireMatch.com has remained fiercely focused on connecting attractive, real millionaires to partners across the world, and has been doing so for well over a decade. The service's elite clientele make up the largest collection of millionaire status CEOs, professional athletes, doctors, lawyers, investors, entrepreneurs, super models, celebrities and more who are seeking honest, long-term relationships for those serious about dating.
To start searching MillionaireMatch.com's attractive, wealthy singles, just visit their official website, or follow them on Facebook for a preview of the company's clientele.