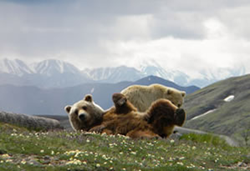 How could anyone go through their life without going to Denali?--A recent tour participant
Seattle, WA (PRWEB) January 31, 2015
Naturalist Journeys, a top birding and nature company, is pleased with the recent announcement of Denali National Park's Artist in Residence Program. Participants on their Alaska Sampler Tour, June 10 - 20, 2015, will have the chance to see work from the five finalists of a list of those chosen from over 300 applicants. Company owner Peg Abbott says, "Art creates a strong connection for nature and birding travelers. So often a painting, an intricate quilt, or a sculpture can convey what our most expert guides cannot – the very visceral connection to nature that our travelers seek. Art often inspires tour participants to look more closely. Sometimes an artistic piece will speak to them and remain alongside their own trip memories."
This year's travelers will take advantage of long summer days to explore Denali National Park, Kenai Fjords, Seward, Anchorage and more of Alaska's pristine wildlife. The park announced its list of Artists in Residence this week.
Naturalist Journeys' Alaska Sampler Tour is designed to highlight landscapes from seacoast to tundra, with views of abundant wildlife, the Pacific Ocean, and Mount McKinley.
Travelers will intimately explore Denali National Park, where soaring mountain views are only broken by possible sightings of Grizzly Bear, Moose, Gyrfalcons, and Dall Sheep.
At Denali, the tundra hosts a fascinating array of birds and wildlife. The Alaska Sampler Tour's summer timing provides the best views of arctic birds, Moose, Caribou, and possibly rare Gray Wolf. There are several hiking opportunities, from easy to challenging, with chances to see Hoary Marmot, Pine Martin, nesting Common Loon, and a colorful mix of tundra wildflowers.
On the coast near Homer and Seward, travelers will enjoy excellent views of both seabirds and some of the Pacific Ocean's signature species including Sea Otters, Horned Puffins, and Humpback Whales, along with large groups of Orcas, other seabirds, and seals.
Naturalist Journeys also encourages travelers to take advantage of a pre-trip extension to Nome from June 5 - 10, 2015. This unique region, nestled close to the Arctic Circle, is Alaska's premier birding destination. It also offers a glimpse for travelers into Alaska away from any tourist hype.
Each June, birders from across the world flock to Nome to experience the annual ice "break-up", where locals celebrate the beginning of summer. Birding highlights include White Wagtail, Yellow-billed Loon, Arctic Tern, and large flocks of Tundra Swan. Frequently, vagrant species from Russia are spotted in Nome.
Nome also features authentic Alaska experiences far from roads and other connections to the outside world. Travelers can even stand on the finish line of the famous Iditarod race.
"Overall, Alaska is perhaps the most pristine wilderness in the United States, and is the destination on which our guides and travelers have always found a true sense of place," says Peg Abbott, CEO of Naturalist Journeys. She stresses that despite the huge volume of cruise ship tourism that keeps travelers at arm's length, authentic Alaska is still within reach. It is company policy to seek out local foods in dining, and whenever possible, unique lodgings.
Veteran Naturalist Journeys guide and ecologist Greg Smith hosts this tour and brings his expertise of Alaska to participants. Greg plans to whittle his list of tours as he prepares to retire, and says without pause, "Alaska is last on my list to go, a year without Alaska is beyond my imagination".
More about Naturalist Journeys' June 10 – 20, 2015 Alaska Sampler Nature and Birding Tour
This tour begins and ends at the Anchorage, Alaska airport (ANC). The Nome pre-trip extension June 5 – 10 will meet the group in Anchorage. Both are open to a maximum of 12 participants.
About Naturalist Journeys
Naturalist Journeys is a nature-travel company based in Portal, Arizona. They strive to support eco-tourism throughout the U.S. and beyond, through small-group guided journeys, often in co-operation with local non-profit groups and communities.