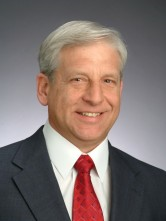 Albany, NY (PRWEB) September 13, 2014
The law firm of Powers & Santola, LLP, is pleased to announce that attorney Daniel R. Santola has been named as The Best Lawyers in America© 2015 Medical Malpractice Law- Plaintiffs 'Lawyer of the Year' in Albany, New York.
After graduating from Albany Law School, he became an assistant professor at Rensselaer Polytechnic Institute. In 1987, he and longtime friend and colleague, John K. Powers, decided to form the firm of Powers & Santola, with a simple mission statement: To provide clients with the best possible legal representation. This requires treating each case on an individual basis and developing the unique facts of each case, rather than processing a large number of claims.
In the pursuit of his goal, Santola has achieved several awards of distinction. He has consistently been listed by Best Lawyers® and by the American Trial Lawyers Association as one of the top 100 trial lawyers.
He was named as "Lawyer of the Year" in 2012 for Medical Malpractice Law- Plaintiffs by Best Lawyers. Dan has also been named in "New York's Top Lawyers," "Who's Who in American Law," "Who's Who in America" and "Who's Who in the World."
Dan has spent more than 30 years teaching various topics within the area of personal injury law, covering subjects such as construction accidents and medical malpractice as well as trial tactics, evidence and products liability.
He has lectured for the Office of Court Administration in its Continuing Legal Education programs for judges and court attorneys, the New York State Academy of Trial Lawyers, the New York Trial Lawyers Association, the New York State Bar Association, the Albany County Bar Association, the American Board Of Trial Advocates, Albany Law School, the Capital District Trial Lawyers Association, Albany Medical Center, Syracuse University Law School and a number of other scholastic and professional institutions.
He was among the first trial lawyers to employ the use of technology in presenting personal injury cases to a jury, including video animation and computer graphics to demonstrate causes of accidents, SPECT scans to document and display brain injuries and "Day in the Life" films to bring into the courtroom the everyday consequences of a permanent injury.
Santola has been at the forefront in the use of highly specialized experts such as placental pathologists, pediatric neuroradiologists and neonatologists to illustrate negligence in obstetrical malpractice cases, human factors engineers and biomechanics to demonstrate defective product designs and physiatrists, vocational rehabilitation specialists and economists to calculate and document the full extent of losses caused by a devastating injury.
About Powers & Santola, LLP
Founded in 1987, the law firm of Powers & Santola, LLP, assists individuals in Albany and Onondaga counties and throughout New York State who have suffered serious, catastrophic injuries due to the carelessness of others. The firm primarily focuses on medical malpractice, construction site accident and motor vehicle accident cases. The firm's main office is located at 39 North Pearl Street, Suite 6, Albany, NY 12207 (local phone 518-465-5995). Please contact the firm to learn more.