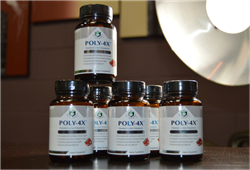 Supported by at least 30 human clinical studies, Oligonol addresses the three major causes of aging: poor blood circulation, oxidative stress and inflammation*
Santa maria, California (PRWEB) June 25, 2015
AlchePharma, a division of Vitamin and Herb Stores, is launching Poly-4X, featuring Oligonol®, a patented, low-molecular-weight polyphenol derived from lychee fruit and green tea with excellent absorption and multiple anti-aging benefits. Supported by at least 30 human clinical studies, Oligonol addresses the three major causes of aging: poor blood circulation, oxidative stress and inflammation*.
Winner of the 2007 Best New Product Award at the 3rd International Conference on Polyphenols and Health (ICPH IFIA/HFE), NutrAward for Best New Ingredient in 2008 and the SupplySide West Scientific Excellence Award in 2011, it has been clinically shown to:
Support healthy post-meal blood glucose and lipid levels*
Reduce visceral fat*
Lessen skin wrinkles and brown spots*
Help decrease fatigue and improve endurance*
AlchePharma has initiated international distribution of Poly-4x as of June 2015.
About AlchePharma:
AlchePharma was started with the intention of developing well studied nutraceuticals for the medical community and the public. Our desire is to build a strategic bridge to the medical scientific community in regards GRAS ingredients. Components that have the potential to be of value, as an additional to tool set for the medical community and the public. We believe this requires a methodical approach to what is efficacious with a solid risk to benefit ratio. Leading to our primary objective of being a viable trusted resource to the medical community.
*These statements have not been evaluated by the Food & Drug Administration. This ingredient is not intended to diagnose, treat, cure or prevent any disease.
Media Relations: Jade Butlig
Vh30jade(at)gmail(dot)com
Distribution Manager: Paula Mowry
Vh32paula(at)gmail(dot)com
Product Development: Ralph Turchiano
Vh39ralph(at)gmail(dot)com
AlchePharma
1130 E. Clark Ave. #120
Santa Maria, CA 93455
805 314 2347