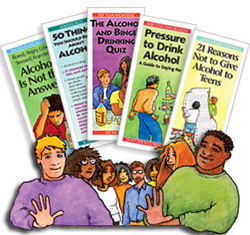 Act on the facts and be smart about alcohol.
Santa Cruz, CA (PRWEB) April 09, 2014
Alcohol Awareness Month, an annual event sponsored by the National Council on Alcohol and Drug Dependence, aims to focus attention on the impact of alcohol and alcohol-related problems on families and communities. Journeyworks Publishing is marking this year's event by offering samples of educational pamphlets designed to get both young people and adults to act on the facts and be smart about alcohol. The sample pack includes the following pamphlets:
50 Things You Should Know About Alcohol; 21 Reasons Not to Give Alcohol to Teens; Bored, Angry, Lonely, Stressed, Rejected...Alcohol is Not the Answer; Pressure to Drink Alcohol: A Guide To Saying No; and The Alcohol and Binge Drinking Quiz.
Health educators and other professionals will find these fact-based, easy-to-read pamphlets make great take-home pieces for their clients, or as giveaways at health fairs and other community awareness events. To request these samples, visit Journeyworks Publishing's Alcohol Awareness sample pack page.
About Journeyworks Publishing
Journeyworks Publishing is a national health education and health promotion publisher with more than 10,000,000 pamphlets, brochures, booklets, posters, bookmarks, videos, digital pamphlets and other products distributed each year. Used extensively by public health departments, hospitals, schools, VA programs and more, Journeyworks materials are known for being creative, effective, easy-to-read and accurate. You can learn more by visiting http://www.journeyworks.com.