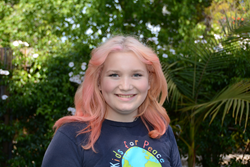 Bullying is a cycle. If you bully back, then the bullying continues. But if you spread kindness, then bullying stops and kindness spreads.
Escondido, CA (PRWEB) October 27, 2014
As Bully Prevention months comes to a close, schools are looking for ways to keep a focus on positive solutions. Twelve-year-old Aleah Elmer would like to recommend The Great Kindness Challenge as a way for all schools to create a culture of compassion, unity and respect.
Aleah has attended a lot of schools in her 12 years, having gone from private to public and to charter schools. At each and every one of the school campuses Aleah has attended, she has noticed the dismaying trend of bullying, and has been on the receiving end of bullying herself. "When I was in third grade, I had one friend who spread rumors about me and did a lot of things to hurt me. I learned you had to be careful about what friends you made," Aleah recalls. "In fourth grade, it got worse and one time people threw rocks at my head. I had a really low self-esteem and I was very unhappy."
Aleah was always brave when it came to expressing her individuality. She has her own sense of style and is not afraid to dye her hair baby pink or wear her favorite fashion, despite being bullied for it. But it was when the bullies turned their attention to Aleah's friend, Dylan, that she found her voice. Dylan was also being targeted for being unique, as he was unwavering in his special style of speech and his devotion to the singer Taylor Swift. "I saw how much Dylan was being bullied for being who he was, and how much it hurt him, so one night I sat down and I wrote a speech." Aleah was close with her then school principal, Mrs. Freeman, and took the speech to her, where Aleah was encouraged to share her words at the next school assembly.
In front of the student body, Aleah gave her speech against bullying, touching on the school's mascot, the Griffin. "You have to take pride in who you are," Aleah announced. "I thought we were the Griffins, mighty and strong! We are not mighty and strong; we are weak and unworthy to be a Griffin. We are unkind to each other and treat each other poorly and disrespectfully and call each other names. And sometimes, we do this to children younger than ourselves. If we are going to be the Griffins, than let's act like it. Let's make some changes and do what is right by each other. Let's be kind and respectful to ourselves and to our school." After the speech Aleah was approached by some younger students, and thanked for her message of being proud and for being an advocate for kindness.
Aleah credits her bravery in finding her voice through her involvement with the organization Kids for Peace, where she first learned that "kindness is strength and bullying is weak."
Kids for Peace is a global nonprofit that believes in the power of positive action. In 2011 Kids for Peace created The Great Kindness Challenge, a free, positive and proactive initiative to help combat school bullying. Aleah has seen firsthand how the program changes lives by making kindness a habit. "Sometimes when you get bullied, you feel like getting revenge. Bullying is a cycle. If you bully back, then the bullying continues. But if you spread kindness, then bullying stops and kindness spreads. I want the world to be a kinder place, so I learned to spread kindness instead."
As a member of Kids for Peace, and motivated to help all students feels safe and respected, Aleah was instrumental in bringing The Great Kindness Challenge to her previous school. Additionally, she completed Kindness Ambassador training earlier this year. As a Kindness Ambassador, Aleah called Escondido Mayor Sam Abed to see if she could enlist him to help spread kindness in Escondido schools. Mayor Abed was so impressed by her call, he immediately set up an in person meeting with Aleah. Delighted by her courage and message, Mayor Abed then committed, with a beaming smile and handshake, to spread the word about The Great Kindness Challenge to all schools in Escondido and other elected officials.
Jill McManigal, Co-Founder and Executive Director of Kids for Peace, stated, "Aleah is a wise and beautiful girl who has turned her experience with bullying into a chance to be an advocate for kindness. This is the exact vision we had for The Great Kindness Challenge when it was created in 2011. We want all students to take the lead in transforming their own schools and communities to a culture of kindness, just like Aleah is doing."
These days, Aleah is busy, having started at a new school this year and balancing life as a soon to be teenager. She and Dylan are still close friends having forged a bond through their uniqueness and unwavering commitment to be themselves, and to be there for each other. "You don't need a giant clique. Some people go through friends like Skittles. It is much better to have one true friend," Aleah explained, "someone you can be friends with for years, then you are set for life."
Aleah said she has plans to get her new school enrolled in The Great Kindness Challenge, just as soon as she decides what to wear to her first ever school dance.
About Kids for Peace and The Great Kindness Challenge
Kids for Peace is a global 501 (c)(3) nonprofit that provides a platform for young people to actively engage in socially conscious leadership, community service, arts, environmental stewardship and global friendship. The Great Kindness Challenge is an initiative that encourages schools to devote one week each school year to performing as many acts of kindness as possible using a checklist of 50 suggestions. The next Great Kindness Challenge takes place on January 26-30, 2015. For more information, to register your school, or to download the checklist visit The Great Kindness Challenge website.
The Great Kindness Challenge is made possible by the generosity of presenting sponsor Dignity Health and supporting sponsors: ExaMobile, The Code Crew, ViaSat, SDG&E and NRG.
###