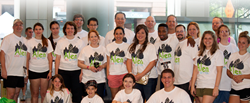 Austin, TX (PRWEB) April 23, 2014
The Fight for Air Climb's purpose is to call attention to the importance of lung health, celebrate those who have beaten lung cancer, and remember those who are currently suffering or who have lost the battle. More than 65 cities participate in climbs nationally where prominent skyscrapers, stadiums, or arenas are scaled in the name of lung health. The Austin Fight for Air Climb is expected to bring Austinites together to climb the 33-story Frost Tower.
"Alen gets more involved with the Fight for Air Climb event each year," commented ALA Leadership Council Member and Alen Brand Advocate, Todd Dixon. Recently honored as the ALA's 2013 Regional Volunteer of the Year, Dixon is the 2014 Fight for Air Climb co-chair and emcee.
"No one should have to struggle to breathe. Though I am lucky enough to breathe easily and naturally, I've met a lot of great people over the years who are not so fortunate. I've also watched a lot of family and friends battle with lung cancer, emphysema, and other lung diseases and breathing disorders. These are the all the people who make Alen's involvement with the American Lung Association so worthwhile."
Alen and ALA's Aligned Missions
"Alen's mission is very similar to the American Lung Association's," says Dixon. "The ALA's mission of saving lives by improving lung health and preventing lung disease is one close to Alen. Their air purifiers are designed to help people to live better by overcoming the adverse health effects of poor indoor air quality. They bring pure air to those who need it."
On a broader scope, Dixon hopes Alen's ALA sponsorship will also help to educate people about the importance of breathing pure air. "People need to become more aware of how poor indoor air quality can affect their health. Many people suffer from symptoms related to poor indoor air quality and don't realize that there are simple ways to almost immediately start feeling better.
"We spend up to 90 percent of our time indoors, yet the Environmental Protection Agency warns that our indoor air is, on average 2 to 5 times more polluted than outdoor air," Dixon explains. "Bacteria, allergens, dust mites, and volatile organic compounds linger in the air you breathe, potentially causing both short- and long-term health effects. This is one reason why allergies are such a common problem."
How to join or support Alen's Fight for Air Climb Team:
"If you are outside of Austin, Alen and the ALA encourage you to join a climb in your area. It's a great way to get involved in your local community and find out more about lung health," says Dixon. For those in the Austin Area, there are several ways to participate:
Join Alen's climbing team. The registration fee is $25. Then, help us raise another $100 for ALA's mission.
Donate to Alen's climbing team. All donations will go direct to the American Lung Association's mission: to save lives by improving lung health and preventing lung disease.
Go to AlenCorp.com to join or support Alen's Fight for Air Climb team.
###
Biography – Todd Dixon
Alen Brand Advocate Todd Dixon is an expert in the air purifier industry, and supports Alen's as his top-rated brand. He became involved with the American Lung Association (ALA) in 2012 and felt an instant connection with the ALA family, for they all shared the mission to help people breathe better. Dixon's aunt was diagnosed with Small Cell Lung Cancer in 2000, and the cancer has since gone into remission. Dixon has also lost his grandmother to lung cancer and his grandfather to emphysema.
Dixon has since become involved with ALA's Better Breather Clubs and support groups for people with breathing disorders and lung diseases. He has also helped implement a promotion offering money back to the ALA, and helped secure Alen's fourth continuous year of sponsorship for the ALA and its Fight for Air Climb.
For two consecutive years, Dixon has served as the Fight for Air Climb co-chair. He also serves on the Leadership Council, Revenue Generating Committee, as event Master of Ceremonies, and as a media spokesperson for the ALA and Alen Corp. In 2013, he was honored as the Texas ALA Volunteer of the Year in the Gulf-Plains Region.
About Alen Corporation
Located in Austin, TX, Alen designs high-quality HEPA air purifiers and filters that improve indoor air quality and relieve symptoms associated with respiratory conditions including asthma, lung disease and COPD. Known for its innovative products, Alen recently received the 2013 Austin Award for Best in Air Purification & Filtration Equipment from the Austin Award Program. Alen works daily to bring awareness to the importance of healthy indoor air by donating products and resources to organizations like the ALA, as well as with Asthma C.A.R.E and the American Red Cross.