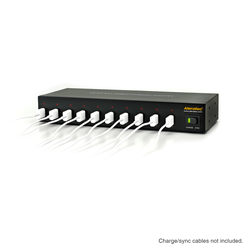 As tablet deployment become more prevalent in educational environments, the need to keep devices charged, synced and ready to go will increase
Atlanta, GA (PRWEB) May 29, 2014
Aleratec Inc., award-winning designer, developer and manufacturer of Portable Device Management (PDM) charge/sync products for mobile devices and professional-grade duplicators for hard disk drives, USB flash drives and Blu-ray/DVD/CD discs, will introduce the Charge and Sync Station Mini 10 at this year's International Society for Technology in Education (ISTE) show in Atlanta, GA (Booth 3673).
Ideal for educational environments where frequent charging and synchronizing is often required, the 10-port charge and sync station supports iOS, Android and most other platforms, and quickly charges and syncs devices for fast and efficient tablet deployment. The Charge and Sync Station Mini 10 has a small form factor, is very durable with an all-metal enclosure and charges or syncs up to 10 tablets, smartphones, iPods or other USB-charged devices at a time. It also boasts Smart-Charge support for iOS devices for the fast charging of iPads and up to a full 2.1 amps per USB port. A 150-Watt power adapter provides ample power while LED lights show when each device is charging or syncing.
"As tablet deployment become more prevalent in educational environments, the need to keep devices charged, synced and ready to go will increase," says Perry Solomon, Aleratec President and CEO. "The Charge and Sync Station Mini 10 is an economical, compact and durable device that lets users quickly charge and sync up to 10 tablets at a time."
Using the Charge and Sync Station Mini 10 is simple. Users connect their portable devices to the unit with USB cables (not included), plug the station into a power outlet and turn the unit on. To synchronize multiple devices, simply connect a computer to the external USB port on the back of the station and switch it from charge mode to sync mode. Ideal for use in schools, businesses or any organization with portable devices to manage, the Charge and Sync Station Mini 10:

Fits into laptop bags or desk drawers
Includes an rugged, all-metal enclosure
Supplies up to 2.1 amps of power to each port
Aleratec's Charge and Sync Station Mini 10 is part of Aleratec's expanding line of Portable Device Management (PDM) products.
Price and Availability
The Charge and Sync Station Mini 10 is available for shipment with an Estimated Retail Price (ERP) of $399 from Aleratec's dedicated resellers and distribution partners.
Government and education customers may purchase from government and education specialists including B&H Photo Video Gov, Best Buy for Business Gov/Ed, CDW-G, EnPointe, Global, GovConnection, GOVPLACE, Insight Gov, PC Mall Gov, SARCOM, Shi.com, Softchoice, SoftMart, Sparco.com, TIG, and Unicom Government. The full line of Aleratec solutions and accessories is also featured at Adorama, Amazon.com, B&H Photo Video, Barnes & Noble, Best Buy, CDW, Dell, HP, Insight, MacMall, Media Supply, Newegg, Office Depot, PC Connection, PC Mall, Quill, RadioShack, Rakuten, Sears, Staples, Tech Depot, Tiger Direct, and Wal-Mart in addition to other leading US retailers.
The Aleratec Charge and Sync Station Mini 10 (Aleratec P/N 400102)
About Aleratec Inc.
Aleratec designs, develops and manufactures high-performance products acclaimed for their reliability and ease-of-use. Beginning in 2000, California-based Aleratec has met the needs of professionals in education, government and corporate markets with a diverse product line that includes professional-grade duplicators for hard disk drives, USB flash drives and BD/DVD/CD discs, as well as disc printers, blank media, shredders, disc repair and related accessories. Aleratec also designs, develops and manufactures portable device management (PDM) products for iOS, Android, and other tablets and USB-charged devices. For more information, please visit http://www.Aleratec.com or contact us toll free at 866-77-ALERATEC (866-772-5372). You can also follow Aleratec at google.com/+AleratecInc, Blog.Aleratec.com, Facebook.com/Aleratec, Twitter.com/Aleratec and on YouTube.com/Aleratec