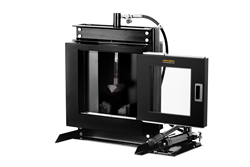 Our HDD Drive Demolisher is the second step of a two-step process to help ensure that sensitive data will not be public information.
CHATSWORTH, CA (PRWEB) November 15, 2016
Aleratec Inc. an American designer, developer and manufacturer of highly relevant technology products for today's always on world, presents the HDD Drive Demolisher, a powerful defender against unauthorized data access and a crushing defeat for data thieves.
Equipped with a 4-ton hydraulic pump that provides enough force to bend and mutilate the platters of hard drives, Aleratec's HDD Drive Demolisher destroys up to two 3.5inch or 2.5inch hard disk drives at a time. DoD compliance guidelines often recommend physical destruction of media in addition to other measures. Aleratec's HDD Demolisher can help keep government agencies, financial institutions, and medical facilities in compliance by physically destroying hard drives regardless of the format or type, thereby rendering those drives inoperable.
"Having protocol in place for media destruction is critical for all organizations but particularly for government agencies and government contractors where compromised, classified information can cause irreparable damage," notes Perry Solomon, Aleratec President and CEO. "Our HDD Drive Demolisher is the second step of a two-step process to help ensure that sensitive data will not be public information."
For best results, Aleratec recommends to sanitize your hard disk drives using an Aleratec HDD Duplicator/Sanitizer prior to physically destroying your hard disk drives using an Aleratec HDD Drive Demolisher.
Unlike conventional hard disk drive destruction devices that use a single puncture mechanism, Aleratec's HDD Drive Demolisher includes a solid steel attachment that can be used to mangle the chassis and deform the platter. The process takes less than one minute and is a fast, safe and cost-effective solution for the destruction of hard disk drives. No electrical power required, and other features include:

Safety-re-enforced chamber for easy removal of destroyed hard drives and debris
Sturdy steel construction
A compact design that fits on a table or desk
When used as part of an overall security strategy, Aleratec's HDD Drive Demolisher gives users added peace of mind that no data will be exposed or end up in the wrong hands.
Price and Availability
Aleratec's HDD Drive Demolisher (part number 240212) has an estimated Retail Price (ERP) of $1,199 and is available from Aleratec's dedicated resellers and distribution.
The full line of Aleratec solutions and accessories is also featured at Adorama, Amazon.com, B&H Photo Video, Barnes & Noble, Best Buy, CDW, Global Industrial, HP, Insight, MacMall, Media Supply, Newegg, Office Depot, PC Connection, PCM, Quill, Rakuten, Sam's Club, Sears, Staples, Target, and Wal-Mart in addition to other leading US retailers. Government and education customers may purchase from Government and Education Specialists including B&H Photo Video Gov, CDW-G, GovConnection, PCM-G, Shi.com, Softchoice, SoftMart, and Sparco.com. All products are available to resellers in the U.S. through D&H Distributing, Ingram Micro, and Tech Data; in Canada through Ingram Micro Canada and Tech Data Canada; in Latin America and Mexico through Tech Data; in the EMEA (Europe, Middle East, Africa) region through Ingram Micro UK.
About Aleratec Inc.
Aleratec, a family owned American business, designs, develops and manufactures high-performance products acclaimed for their reliability and ease of use. Beginning in 2000, California-based Aleratec has met the needs of professionals in education, government and corporate markets with a diverse product line that includes professional-grade portable device management (PDM) charge/sync products for tablets and other mobile devices, duplicators for hard disk drives, USB flash drives and DVD/CD discs, as well as shredders, disc repair and related accessories. For more information, please visit http://www.Aleratec.com or contact us toll free at 866-77-ALERATEC (866-772-5372). You can also follow Aleratec at google.com/+AleratecInc, YouTube.com/Aleratec, Twitter.com/Aleratec, Facebook.com/Aleratec and Blog.Aleratec.com.