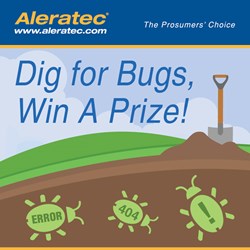 Running a contest that challenges users to find problems helps us connect with the people who use the site and improve features based on their input.
Chatsworth, California (PRWEB) November 02, 2013
Aleratec Inc., an award-winning digital duplication technology manufacturer with customers worldwide, unveiled its newly designed website with "Dig for Bugs, Win A Prize," a weeklong contest that offers visitors a chance to win prizes by discovering bugs on the site. Running from November 1st through November 7th, 2013, entrants with the top 10 submissions will receive prizes including TunePhonik headphones, ear buds and speakers.
"We wanted to do something different when we launched the new website," says Perry Solomon, Aleratec President and CEO. "Running a contest that challenges users to find problems helps us connect with the people who use the site and improve features based on their input."
Contestants are encouraged to explore the site for error messages, linking issues, or any other problems using their computers, smartphones and tablets. Aleratec will consider all submissions, and prizes will be determined based on the merit of the submission. Prizes include:

First Prize Winner - TunePhonik iBTx 3.0 Hands-Free Stereo Bluetooth Headphones
Second - Fifth Prize Winners - TunePhonik iSx1 Portable Mini Speaker for iPhone, iPad, and Android
Sixth - Tenth Prize Winners - TunePhonik iMX5 In-Ear Headphones Premium Headset with In-line Microphone
According to Aleratec, the new site makes it easier and more efficient for customers to navigate the broad range of Aleratec products, and the contest is just one of many steps the company is taking to ensure a flawless experience. "The best way to find out how well a website performs is to go directly to the people who use the site," concludes Solomon. "We're looking forward to finding out what we might have missed."
Official contest rules are located at http://www.aleratec.com/promotion.html and no purchase is necessary to enter. Contestants must email their submission(s) to digforbugs(at)aleratec(dot)com no later than November 7, 2013.
The full line of Aleratec solutions and accessories is featured at AAFES, Adorama, Amazon.com, ANTOnline.com, B&H Photo Video, Barnes & Noble, Best Buy, Buy.com, CDW, Data Vision, Dell, HP, Insight, J & R, MacMall, Newegg, Office Depot, PC Connection, PC Mall, Quill, RadioShack, Sears, Tech Depot, Tiger Direct, and Wal-Mart in addition to other leading US retailers. Government and Education customers may purchase from Government and Education Specialists including AAFES, B&H Photo Video Gov, Best Buy for Business Gov/Ed, CDW-G, EnPointe, GovConnection, GOVPLACE, GTSI, Insight Gov, PC Mall Gov, SARCOM, Shi.com, Softchoice, SoftMart, Sparco.com, TIG, and Unisys. All products are available to resellers in the U.S. through D&H Distributing, Ingram Micro, and Tech Data; in Canada through Ingram Micro Canada and Tech Data Canada; in Latin America and the Caribbean through Tech Data Miami; in the EMEA (Europe, Middle East, Africa) region through Ingram Micro UK.
About Aleratec Inc.
Aleratec designs, develops and manufactures high-performance products acclaimed for their reliability and ease-of-use.
Beginning in 2000, California-based Aleratec has met the needs of government, education and commercial markets with professional-grade duplicators for hard disk drives, USB flash drives and BD/DVD/CD discs. Aleratec also produces disc printers, blank media, shredders, disc repair and related accessories with the "Prosumer" in mind. For more information, please visit http://www.Aleratec.com or contact us toll free at 866-77-ALERATEC (866-772-5372). You can also follow Aleratec at http://alerat.ec/A_Google_Plus, Blog.Aleratec.com, Facebook.com/Aleratec, Twitter.com/Aleratec and on YouTube.com/Aleratec.