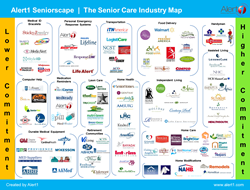 The Seniorscape is the first map of its kind within the senior services space.
Williamsport, PA (PRWEB) October 08, 2014
Today, Alert1 Medical Alerts released the Seniorscape®, a visual map of companies that serve the burgeoning senior care space. The document is the "Who's Who" of the senior care world.
Organized by industry sector and commitment level -- from one time purchases to more comprehensive, full time care – the Seniorscape is the first map of its kind within the senior services space.
"We are thrilled to highlight the options available to the modern senior," says Alert1 co-CEO Shayne Fitz-Coy. "The Seniorscape is organized to make it easier to understand the senior care market as it is today. The Seniorscape represents an ongoing dialogue within the industry to understand and track the evolution of this important contributor to the country's 'elder economy.'"
The industries that serve senior citizens are evolving quickly, yet no definitive resource exists to help investors, operators, and consumers understand the vast and growing space. Alert1 plans to continue taking leadership in this space to curate the market and make it more accessible to both consumers and industry leaders.
"This map is just the beginning," stated Fitz-Coy. "Alert1 will revolutionize this landscape. The senior care space needs to better present itself in order to provide high-quality, comprehensive care to our nation's seniors."
To view the Seniorscape and learn how it was created, visit http://www.alert-1.com/seniorscape.
Alert1 Medical Alerts is an aging in place technology company headquartered in Williamsport, PA., with offices nationwide. They provide personal emergency response systems and medication reminders for seniors. In business for 26 years, they were chosen as the "#1 Best of 2014 Medical Alert" by Modern Senior Magazine.