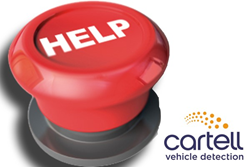 Cartell provides service to the Winland Vehicle Alert Systems.
Salunga, PA (PRWEB) August 27, 2014
Cartell and Winland Electronics have been in the same industry for decades, both offering driveway alarms based on the same (magnetometer) technology. Management at Cartell heard from a mutual distributor that Winland decided to suspend making its driveway alert systems in order to concentrate on its other product lines. Cartell approached Winland, offering to provide technical and repair support for their products currently in the field.
Products between the two manufacturers were exchanged and extensive testing done to compare, contrast and discern product compatibility. It was determined that Cartell's line of products can replace Winland's. A relationship was formed as it was determined Cartell could indeed supply the customer support needed to both troubleshoot and replace defective Winland Vehicle Alert products in the field. Since then, Winland's technical support team has been re-directing all support needs to Cartell.
On this subject, Jonathan Bohannon, President/CEO of Cartell, has said, "We regret that Winland has stopped making its Vehicle Alert product line, but understand their desire to go in a different production direction. Winland has for years made a reliable product and we are glad to be able to supply support for those who have installed Winland products in the past. I am humbled by Winland's confidence in Cartell and wish them much success."
Cartell, founded in 1975, is a division of Preferred Technologies Group, located in Lancaster County, Pennsylvania. Starting with its groundbreaking use of magnetometer technology for vehicle detection, Cartell has led the industry with innovation, functionality, quality and value. The dependability of Cartell's products far exceeds the industry standard and is backed by a five-year warranty. Every Cartell product is quality-made in the U.S.A. and sold by a national network of fine distributors.
Media Contact
Jonathan Bohannon, President/CEO
j.bohannon(at)cartell(dot)com
(717) 917-4468
http://www.cartell.com