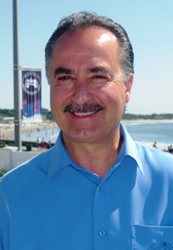 It's a privilege and honor to be recognized by the people I serve.
Cranston, RI (PRWEB) August 05, 2015
Alex Biliouris, Keller Williams Next Move Realty will be featured in a special section of the September issue of Rhode Island Monthly as a 2015 Five Star Real Estate Agent award winner.
Five Star Professional partnered with Rhode Island Monthly to identify and showcase an exclusive group of real estate agents who have demonstrated excellence in their field. Less than 6% of agents in Rhode Island received this recognition.
"It's a privilege and honor to be recognized by the people I serve. My clients know that my primary interest is to help them achieve their real estate investment goals while helping them realize the most value in the current market," said Alex Biliouris of Keller Williams Next Move Realty.
The 2015 Five Star Real Estate Agent award winners have been carefully selected for their commitment to professional excellence and overall client satisfaction. The award is based on rigorous research with significant focus on customer feedback and providing quality services.
"It is an honor to present exceptional real estate agents with the Five Star award each year. While agents are evaluated on experience and production levels, the foundation of the award is client satisfaction. These elite agents have worked hard to get where they are while continuously delighting clients along the way," remarked Lynn Hargreaves, VP, Research and Services Operations, Five Star Professional.
Alex Biliouris' Five Star award profile can be viewed here.
"I love the art of the deal and while real estate presents many different challenges and opportunities; it gives me a tremendous amount of satisfaction to know I've helped my clients achieve their lifelong dream of home or investment property ownership. In many cases, buying a home may be the biggest purchase in one's lifetime. I take great pride in playing a pivotal role that ensures the transaction will be smooth and hassle free," stated Biliouris.
The Keller Williams Next Move Realty Team is dedicated to upholding its reputation that is synonymous with honesty, integrity, quality, diligence and professionalism. It is a full service real estate (commercial & residential) brokerage, property management, development and consulting company. The team is led by Alex Biliouris who has been involved in all aspects of the real estate industry for over 30 years. Alex has also owned and operated many successful companies in a variety of different industries, been involved in the public sector serving on various governmental boards and commissions for over 20 years and he's administered budgets that have exceeded 20 million dollars.
"If you've been sitting on the sidelines, this is the time to jump in. The real estate market has started to heat up but there is a substantial upside to home values that will be earned in the near future. It's time to make your next move," said Biliouris.
Five Star Professional has been conducting market research to define and promote professional excellence in service professionals since 2003. Its Five Star Real Estate Agent award program is the largest and most widely published real estate agent award program in North America.
Real estate agents are awarded based on an in depth research process. Thousands of consumers are contacted to rate their real estate agent on ten evaluative criteria including customer service, market knowledge, negotiation, closing preparation and overall satisfaction. Beyond a qualifying client evaluation score, real estate agents are evaluated on objective criteria such as experience, production levels and disciplinary and complaint history.
There is no fee to be considered or awarded. Visit http://www.fivestarprofessional.com for more information.