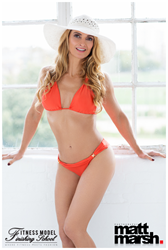 The confidence that Alexandra's course has given me is incredible.
(PRWEB UK) 15 July 2014
When Hungarian-born Aniko received an invitation to BodyPower Expo from fellow Fitness Model Finishing School graduate Christina King, she didn't simply decide it would be a good idea to attend; she decided to apply to compete.
And it's not the first or last competition that Aniko's entered since attending the Fitness Model Finishing School. She was selected as a Grand Finalist for Top Model UK 2014 over 25's category live catwalk show and has plans to compete at the O2 with the WBFF and at the Miami Pro event in October.
"The confidence that Alexandra's course has given me is incredible," says Aniko. "Not just the confidence but the contacts, the skills and of course a portfolio that I can be really, really proud of. I can do anything."
Aniko who lives in Surrey and has been a Pilate's teacher and fitness trainer for 20 years said, "I was a little nervous to start with, representing women of my age group. I needn't have been though. People seem really open and welcoming to a new generation. A lot of women my age are proud of the way we look. It's normal now."
"When I saw Alexandra's Fitness Model Finishing School in Personal Trainer magazine I decided to go for it. I'm so glad I did. It made me want to be a champion for ladies of my age and older. Now look at me!"
Aniko's journey to modelling success has not been easy. Aniko says, "I had breast cancer at age 34 and had to go through an operation to remove the lump followed by chemotherapy, radiotherapy, and cancer drug treatment." She explains, "This year I'll be 50 and I'm looking forward to inspiring others not to think in limiting ways about age."
Aniko concludes, "Having studied with Alexandra and her team and with Alexandra at my side as a mentor I've now got the confidence to go out there. It feels great."
The aim of the Fitness Model Finishing School is to enable women who've been working hard on their fitness and physique – or those who need a goal to work towards - to celebrate their fitness journey – and have a lot of fun. The team work with the women to create 'looks' for a portfolio of individual photos, boost their confidence and improve their skills in presenting themselves and posing for the camera. Alexandra Wilson, international fitness and nutrition expert, personal trainer, bikini athlete and entrepreneur is the brainchild behind the School, which is the world's first dedicated two-day 'Fitness Model Finishing School' – where fitness meets fashion.
About Alexandra
Alexandra is a fully qualified personal trainer with a wealth of experience in the industry, creating personalised fitness and nutrition plans and online coaching programmes to inspire and motivate people to look, feel and be their best.
She recently became one of the first people in the world and one of only 20 selected from the UK to be given the status of 'Physique Elite Master Trainer' by world-renowned trainers Neil Hill and Kris Gethin. She has been featured in modelling shots in, and written articles for, a variety of magazines in the UK and abroad (Red, Health & Fitness, Now, Women's Fitness, Ultra Fit, Fit and Firm, ExtraFit and Fitnorama). She is an ambassador for the 'Better Bodies' range of fitness clothing, the face of Biondi Couture's fitness competition range and Mark Anthony's 'Body Trainer' exercise device.
To find out more about Alexandra, receive a free 'I will make you lean' e-book, sign up for her free e-news containing tips, advice and information and receive details of new programmes as they launch, visit: http://www.alexandrawilson.com.
To read about Alexandra's Fitness Model Finishing School and to apply, visit: http://www.fitnessmodelfinishingschool.com.