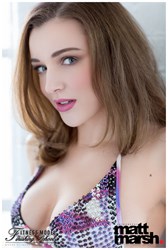 Alex and her team were really supportive, coaching me from behind the camera, and it was really encouraging to have the other students there too, there was a lot of positivity in the room. I would recommend it to anyone.
(PRWEB UK) 29 November 2013
The aim of the Alexandra Wilson Fitness Model Finishing School is to enable women who've been working hard on their fitness and physique – or those who need a goal to work towards - to celebrate their fitness journey – and have a lot of fun! The team work with the women to create 'looks' for a portfolio of individual photos, boost their confidence and improve their skills in presenting themselves and posing for the camera. It's like Gok Wan's Style Secrets TV Show on hyper-drive!
One of the students, Christina King aged 23, said that the weekend gave a massive boost to her confidence, encouraging her to apply for jobs and get her career moving: "I qualified as a fitness instructor last May and I've wanted to do fitness modelling for a while, but I wasn't quite sure how to make the change from my current job in warehousing. For me, the biggest barrier was my confidence, I'm very nervous – even driving to the School was nerve-wrecking for me!"
Christina's goal was to improve her confidence and to learn how to get into the fitness industry, and she wasn't disappointed: "It was amazing. I learned so much. I learned about mindset and being positive – and that really motivated me, and made me feel I can really do these things. I had my hair and make-up done properly for a photoshoot which was fantastic – everyone was so supportive and I learned all about posing for the camera and making the best of yourself. I also found out about the fitness industry, how to brand myself, how to approach magazine editors and publicity and PR tips."
"Alexandra and her team were really supportive, coaching me from behind the camera, and it was really encouraging to have the other students there too, there was a lot of positivity in the room. I would recommend it to anyone who wants to get into the industry – or just wants to have a beautiful set of photos for themselves and a great weekend of being treated like a model."
Since the weekend, Christina has found the confidence to apply for more jobs, and approach companies and magazines for opportunities. She also went to an interview she'd already been invited to with a new found confidence: "It made a huge difference to how I presented myself in the interview, I felt a lot more confident and presented myself in a much better light. There's no way I'd have done all these things before I attended the School. I'm a lot more positive about getting out there and doing it now. I'd say to others who might be uncertain – just do it, it's really worth it, it's an investment in you and your future."
Alexandra Wilson, international fitness and nutrition expert, personal trainer, bikini athlete and entrepreneur is the brainchild behind the School, which is the world's first dedicated two-day 'Fitness Model Finishing School' – where fitness meets fashion.
The 2014 schedule with new dates and locations will be released soon and potential students are advised to get in touch soon as there are only 10 places on each course. Students might be in any walk of life or career, they don't need to be working in the fitness industry or aspiring to do so. They'll take away tips, tricks and modelling secrets from top industry experts, along with photos, a video and goody bags.
Alexandra says: "The school is part finishing school, part personal consultancy, part bootcamp and part academy - with an emphasis on fun, celebration and confidence-boosting. Students will leave with with hundreds of tips, tricks and modelling secrets – a portfolio of beautiful photographs to celebrate their transformation and a video of the weekend."
To find out more and book, visit http://www.fitnessmodelfinishingschool.com.
About Alexandra
Alexandra is a fully qualified personal trainer with a wealth of experience in the industry, creating personalised fitness and nutrition plans and online coaching programmes to inspire and motivate people to look, feel and be their best.
She recently became one of the first people in the world and one of only 20 selected from the UK to be given the status of 'Physique Elite Master Trainer' by world-renowned trainers Neil Hill and Kris Gethin. She has been featured in modelling shots in, and written articles for, a variety of magazines in the UK and abroad (Red, Health & Fitness, Now, Women's Fitness, Ultra Fit, Fit and Firm, ExtraFit and Fitnorama). She is an ambassador for the 'Better Bodies' range of fitness clothing, the face of Biondi Couture's fitness competition range and Mark Anthony's 'Body Trainer' exercise device.
To find out more about Alexandra, receive a free 'I will make you lean' e-book, sign up for her free e-news containing tips, advice and information and receive details of new programmes as they launch, visit: http://www.alexandrawilson.com.